England on an RT
The Plan and Program
After long debate and budgeting we started planning this holiday in England. After several visits to UK, US, Italy & FSU I came to the impression to really feel and experience the ambiance of a country one needs to visit the countryside, or as we know it the platteland. Trudie, never being abroad, was tasked to identify places she would like to visit and she really put in a noble effort – asking advice anywhere, books, internet and what not.
The decision was not to visit places that will take too much time and concentrate on specific subjects too much. We'd rather do an overview of places than to spend for example a full day and only cover Madame Tussauds and London Dungeon. These places we rode past and didn't collect the t-shirt.
Our mode of transport could only have been one, a motorbike and this was very professionally handled by About Town Bike Hire in Wandsworth, London. A new spec black RT with all the extras, just how I wanted. Spot-on at 10am the bike was ready and we packed our stuff over and took to the streets. That was me as the rider, a very user friendly pillion called Trudie, our personal Garmin with up-to-date maps and very high holiday spirit.
<![if !vml]>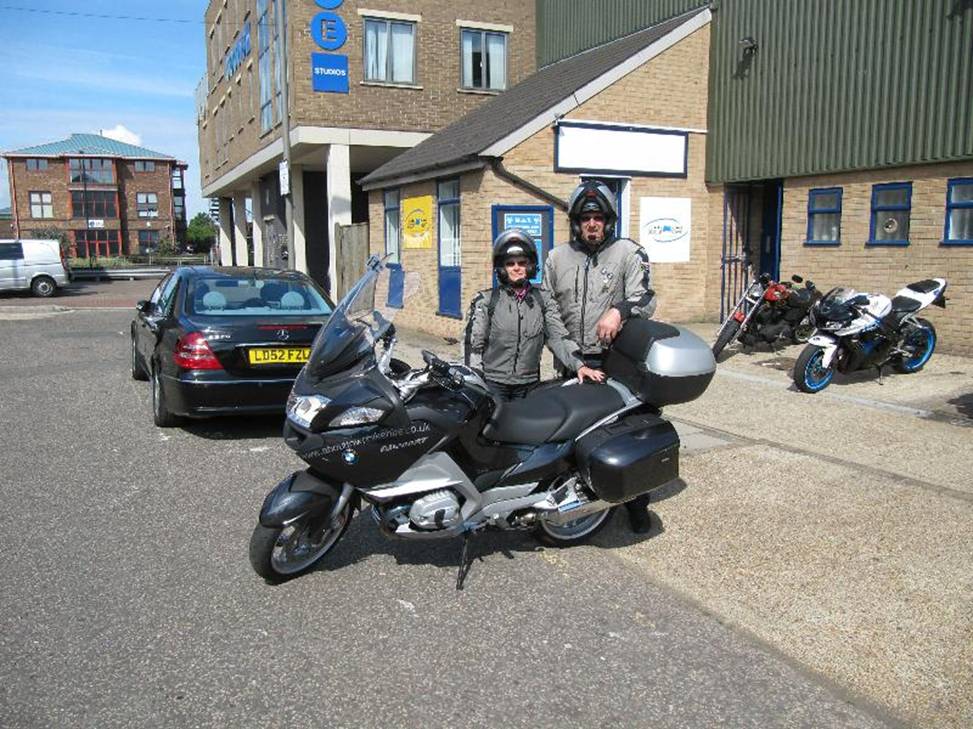 <![endif]>
The second morning (Sunday) we stopped at a traffic light next to a Metro Police car. We greeted and the cop (reading the About Town Rental sign on the bike) realised we are foreigners. I asked if lane splitting is allowed in this country and he replied:" Yes. Take all the advantages you can, but do it safe".  I immediately felt as if at home and then really started enjoying the RT as it should be ridden…
At this early stage when travelling with the train from Heathrow to Hammersmith Station and from there with a taxi to Wandsworth, we realised our plan to travel by bike was the best. The traffic conditions is London is horrific, and being from SA it will be foolish to use a car. The special taxation in Central London makes driving there expensive too.
The initial plan was to spend two days in London, two nights in Dorset on the South Coast, one night in Salisbury, Bath and Bristol respectively and a last night with new biker friends in Neath, Wales. Due to the holiday season in UK at that time of the year (from middle July) we booked our accom in advance by internet. This proved to be a wise decision.
The Cities
London
Immediately after receipt of the RT we rode to London Eye, around town and the afternoon to Greenwich. At this time of year London is beautiful to say the least. It is however easy to get bored with London and our initial plan of two days were just enough – one gets the feeling of claustrophobia in that city. Although the people is friendly and there is in fact very few real English people we encountered, it still feels like a city outside England, only the architecture keeps one in town. What I am trying to get clear is that when one walks the streets one hears very little English, mostly foreign languages.
Being summer and perfect weather in the +20's everybody is out in the streets enjoying the climate. Where they all live we can only wonder.
<![if !vml]>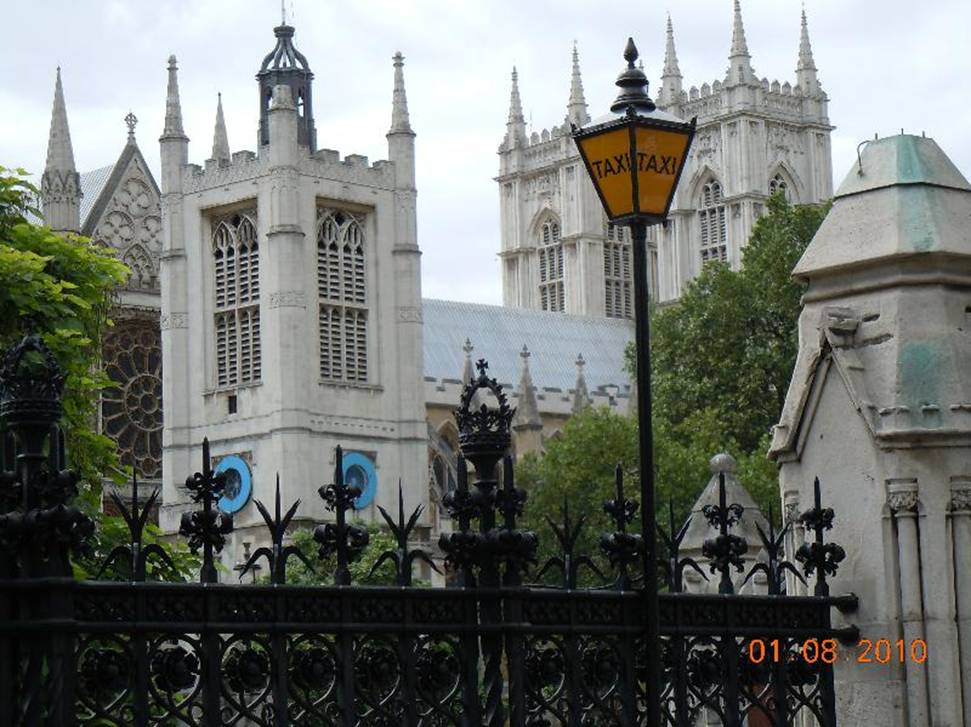 <![endif]>
This building reminds me of something … but I just cannot remember what?<![if !vml]>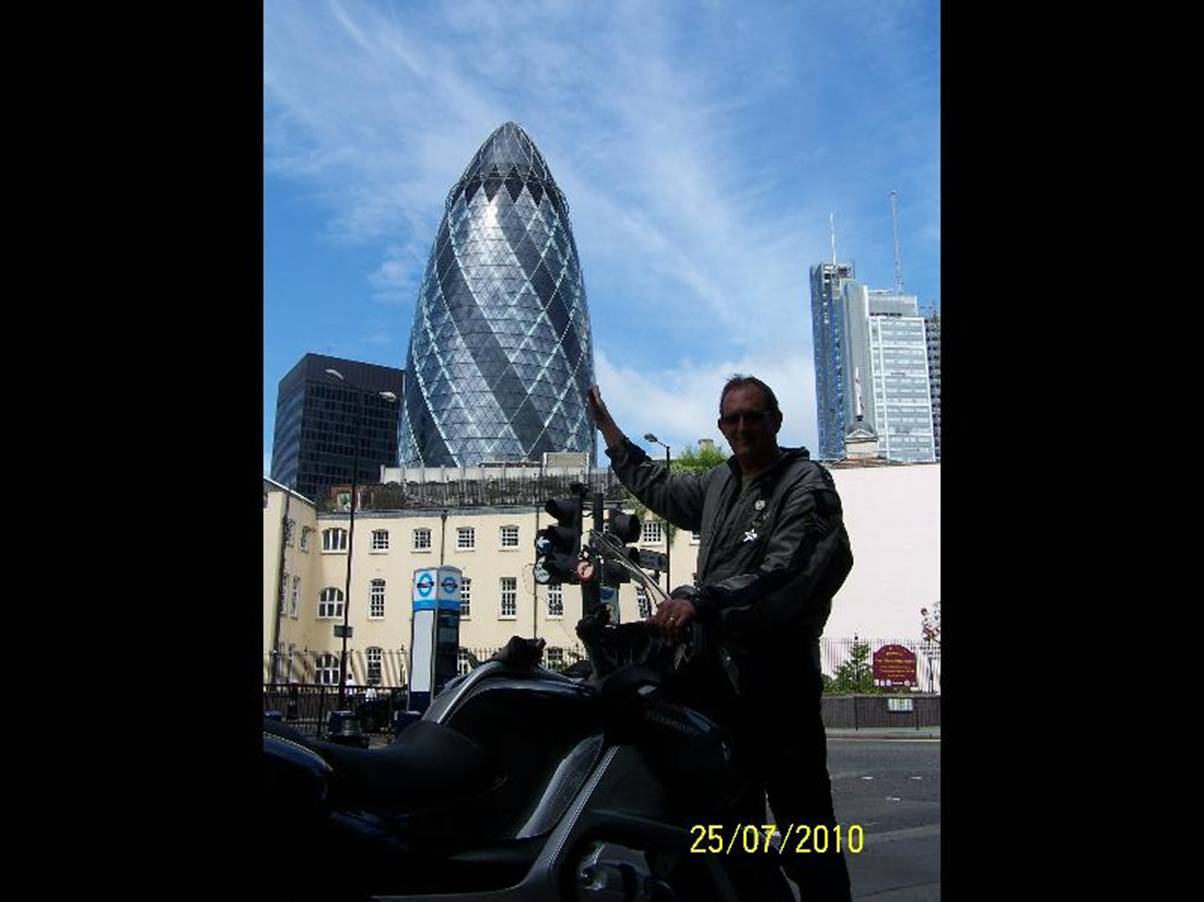 <![endif]>
Interesting number plate<![if !vml]>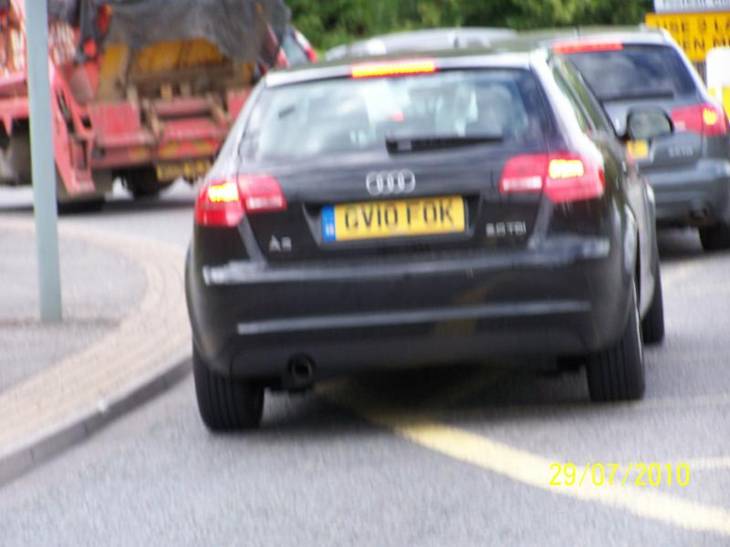 <![endif]>
To date I only read about them. Fortunately the owner was not close by… I might have just asked for a ride around the block.
<![if !vml]>
<![endif]>
<![if !vml]>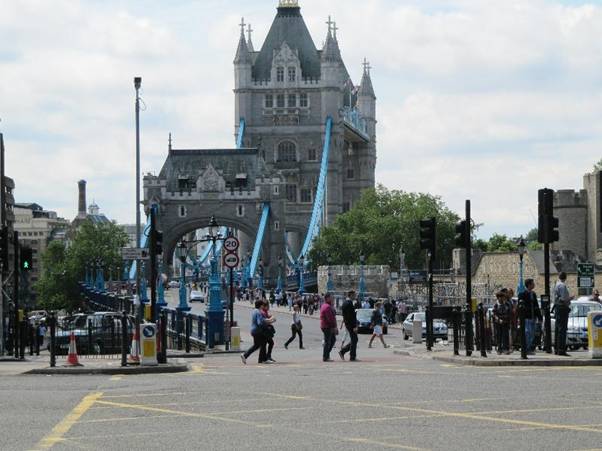 <![endif]><![if !vml]>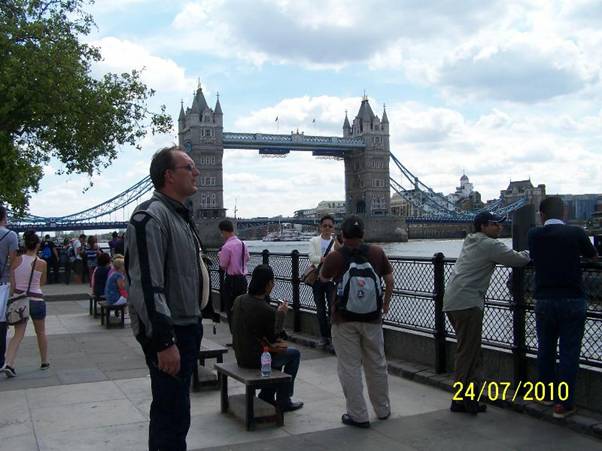 <![endif]>
This hotel we could not afford<![if !vml]>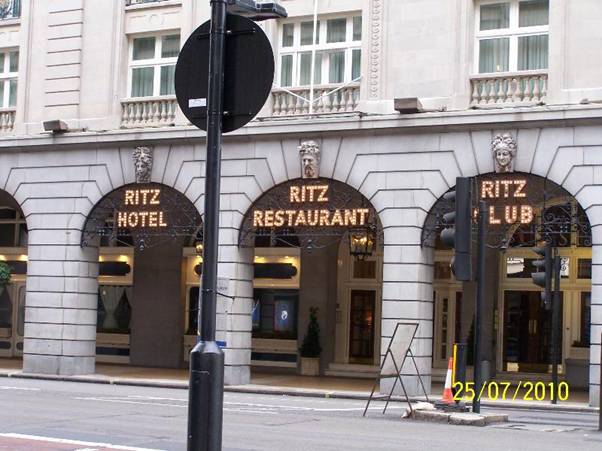 <![endif]>
A trike?<![if !vml]>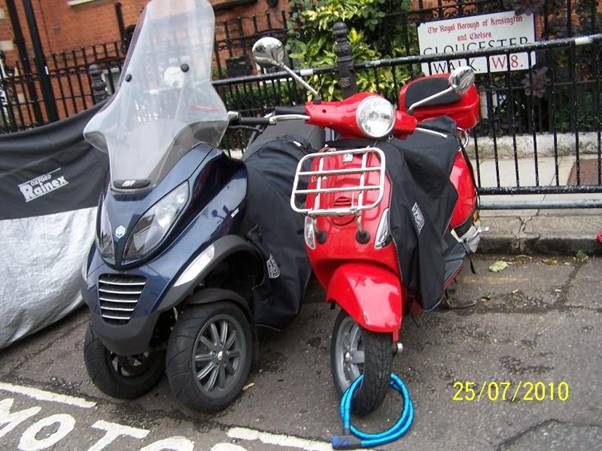 <![endif]>
Greenwich
Having visited this town before I influenced Trudie to agree to go there again. And I was not wrong, she enjoyed the place tremendously
<![if !vml]>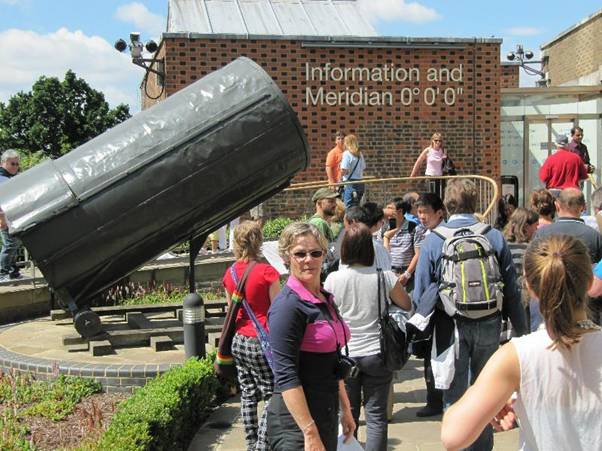 <![endif]><![if !vml]>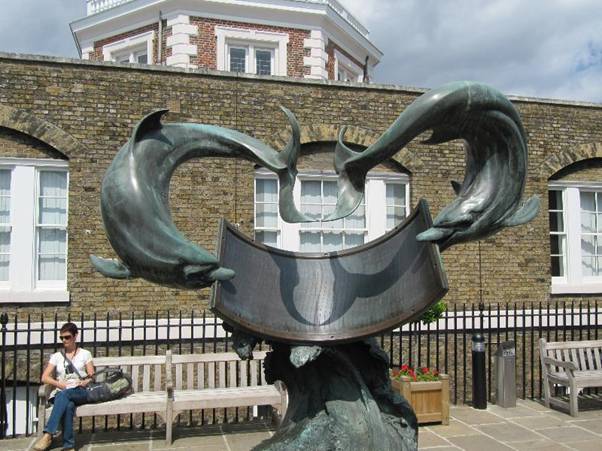 <![endif]>
This Sun dial is extremely accurate… based on my wrist watch of course!
13h02
<![if !vml]>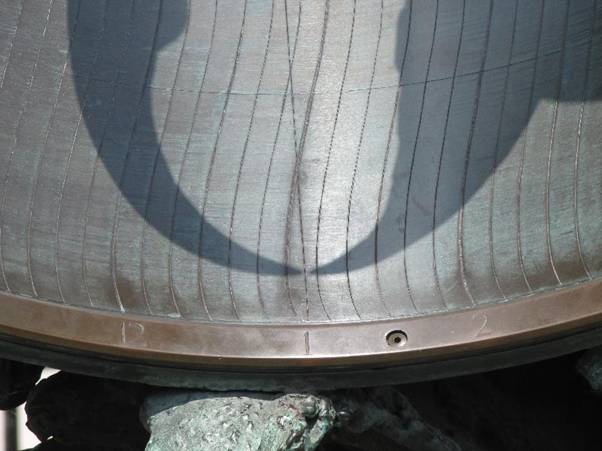 <![endif]><![if !vml]>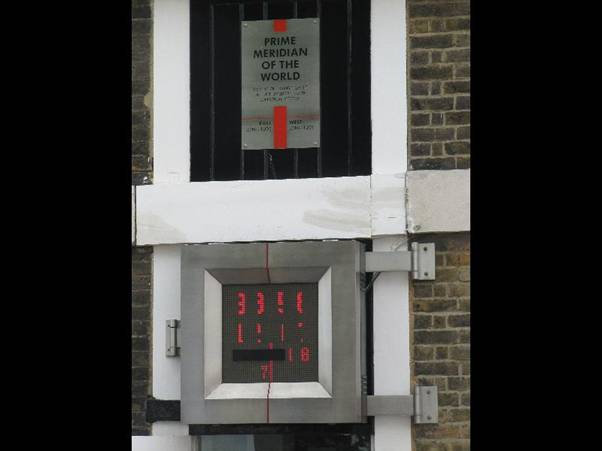 <![endif]>
Greenwich is not a town but more a place. The residence of Queen Elizabeth I and the location of the National Maritime Museum and Royal Observatory, which is the heart of the establishment. Greenwich is known for two very important developments that influences our everyday lives, whether we know it or not. One must understand that this place was the centre of knowledge regarding astronomy and time in the years of the 1600s – an era when the British Empire was starting to become a very important entity in the international world and what happened in Greenwich was regarded as true and important.
-  Longitude. To map the Earth one needs a grid to reference places of importance and interest. Latitude grid development is easy to explain and understand. The equator being the centre can be regarded as 0° and everybody will agree. But where should Longitude 0° be situated? If one agrees that Earth circulate once every day and a day has 24 hours and there is 360° in a circle then it is clear that 360/24=15. Then each hour around the globe is 15°.  Each 15° represents one hour. Easy, but then where do we start our time? Where is 0°? It can be anywhere on the Globe! But then, each astronomer requires a common point of reference to look and time the stars and where was the most important Observatory of the time? At Greenwich of course! But this eventual decision did not go down without a good salvo of fights and arguments. We all know the term 'GMT' , being Greenwich Mean Time where time is at 0°.
-  Accurate time piece. At the time some real accurate time pieces existed already and most were based on the pendulum design. Also an important piece of trade if one is involved in astronomy. But what to do on ships at sea? A pendulum does not work on a boat playing on waves! After a serious sea disaster where more than 2000 British seamen went under when a total flotilla ran aground (on rocks) near Cyprus in the 1600s a competition was opened to design an accurate time piece to be used on ships at sea. These time pieces are important to calculate the ship's position using the sun (time!) in order to plot on the Longitude and Latitude grid. Eventually the British Astronomer Royal based at Greenwich (how else?) won the 20000 Pound first prize for the design that was most accurate. All the entries and the whole story are there to be seen and read.
Unfortunately no picture taking inside the buildings are allowed.
Bath
The City of Bath is built around the ancient Roman baths that was built over the only hot spring in the UK.
<![if !vml]>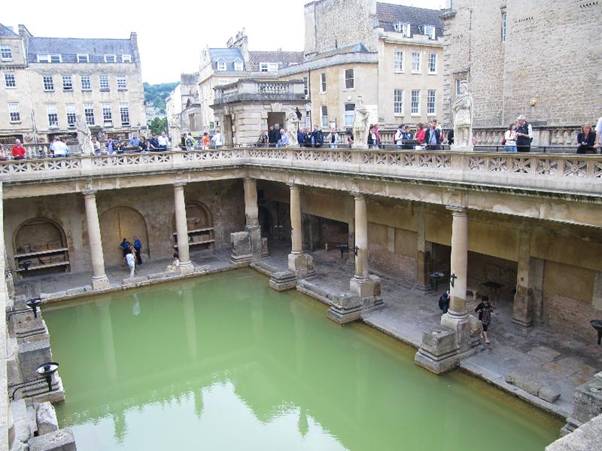 <![endif]><![if !vml]>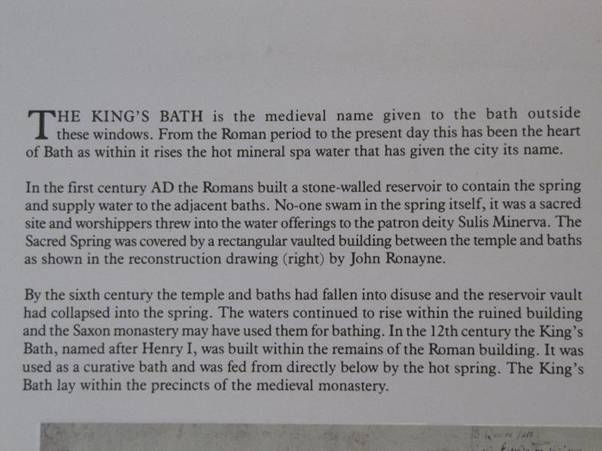 <![endif]>
Obviously and true to their custom and religion this place was sacred to the god of Sulis Minerva. The remains are well preserved and the complete story is well documented, the first inscription around 76AD! By the 6th Century the Saxon Monasteries took the complex over after the Romans allowed the spring to fall into disuse.
<![if !vml]>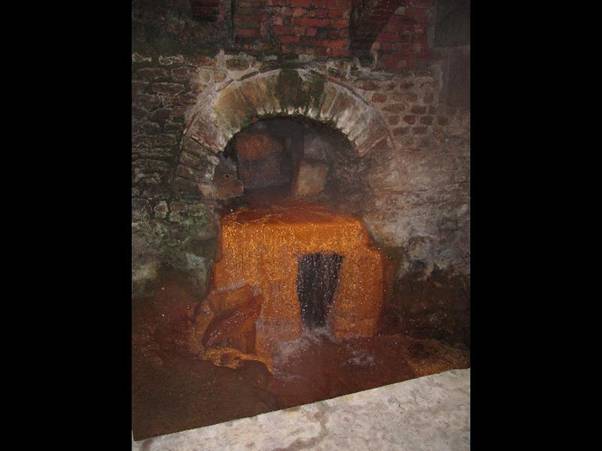 <![endif]>
This is the outlet from the eye, which was sacred and only the King allowed there. The yellow in the picture is the original lead liner installed by The Romans and still to this day in perfect order.
<![if !vml]>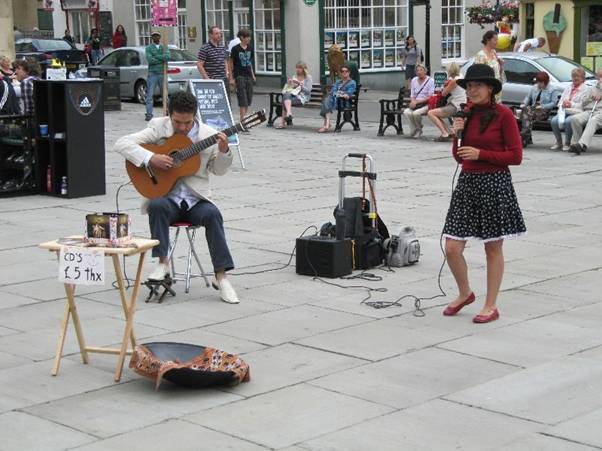 <![endif]><![if !vml]>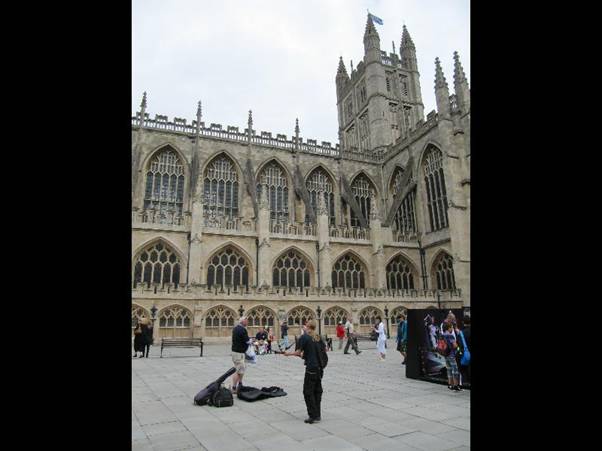 <![endif]>
When one is thirsty and a pub too far away…
<![if !vml]>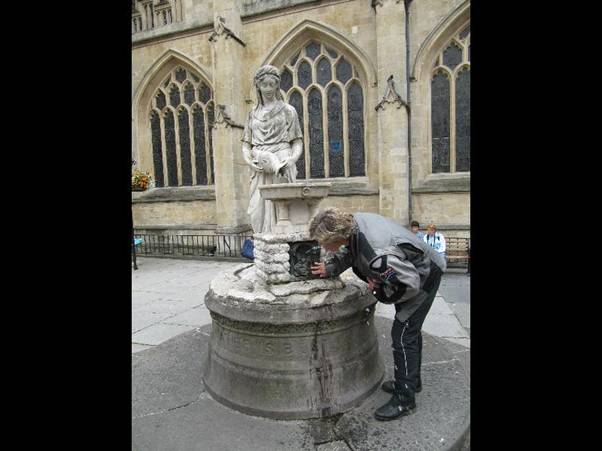 <![endif]><![if !vml]>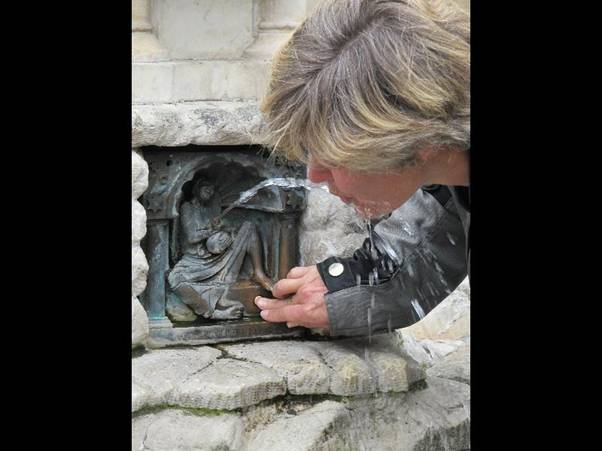 <![endif]><![if !vml]>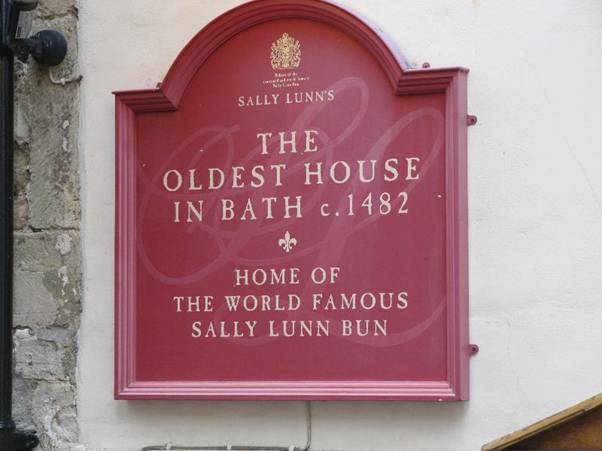 <![endif]>
By the 12th Century King Henry I started using the baths as a curative medicinal and everybody of note travelled to Bath for cures of any sort. It became the place to visit and this time was the second Golden Era in its existence. The present, they say is the third Golden Era with about 2 million people visiting Bath annually! But the present Queen Elizabeth II despises this place! More later…
Cardiff
Cardiff to us South Africans means only one thing – rugby at Cardiff Arms Park (previously) and Millenium Stadium recently. Where the Boks have lost and won good over the years. We had to stop for a Kodak moment on our way to Heath further north.
<![if !vml]>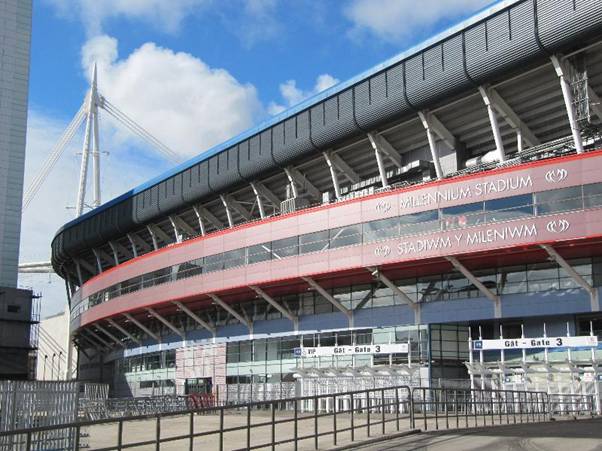 <![endif]><![if !vml]>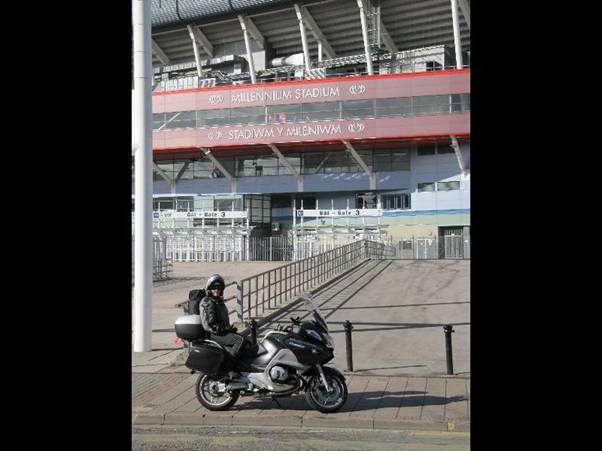 <![endif]>
Weymouth
We passed through Weymouth on our way to Isle of Wight and could not spend more time than the occasional stop for a picture. Fortunately a road construction closure detoured us through town centre and we were just in time for a bridge to lift allowing the early morning boat flotilla out the harbour. Stunning! This town reminds us of Gordon's Bay and is a definite address for a coastal retirement in the UK, if ever.
<![if !vml]>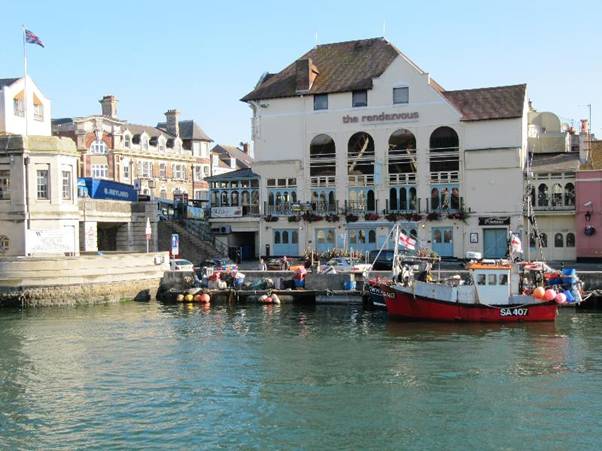 <![endif]><![if !vml]>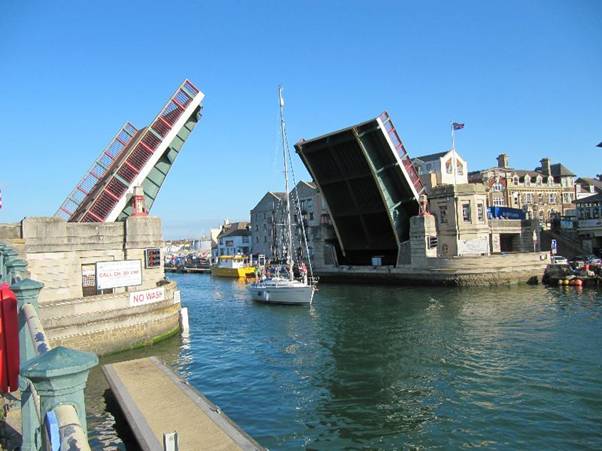 <![endif]>
Cathedrals & Castles
One can spend days exploring the numerous castles and cathedrals in the UK but we decided on only a few. Being through two then the picture can get somewhat monotonous…
St Pauls, London
It was Sunday when we visited and a church service was underway. This place is so large one is allowed in the cathedral during the service without bothering anyone. We could not go up the stairs to the dome and had to resort to pictures in the lobby and off course from the outside.
<![if !vml]>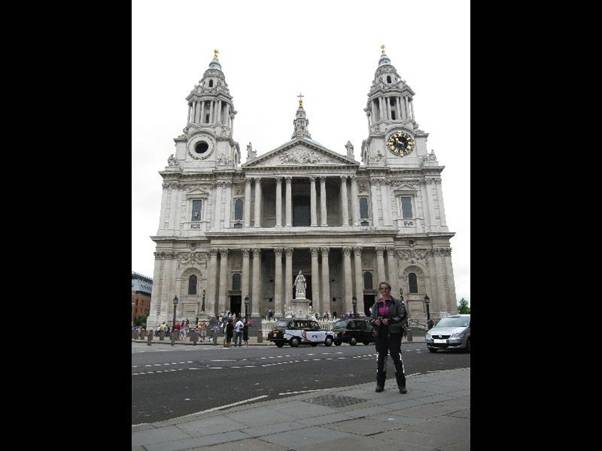 <![endif]><![if !vml]>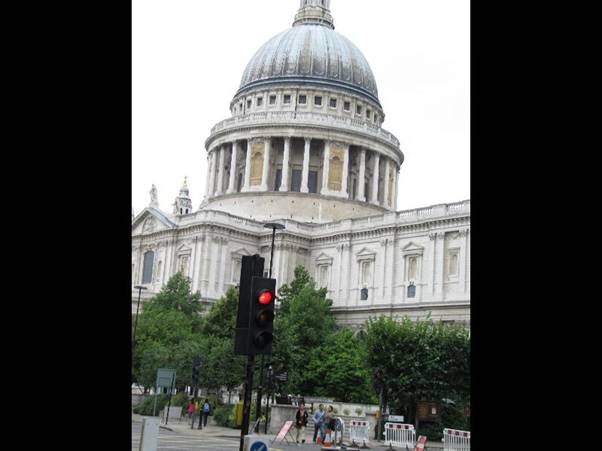 <![endif]>
Salisbury
Now this is a cathedral of note. No wonder Cecil John Rhodes named the capital of the country he founded as Salisbury. The old City of Salisbury houses the most impressive cathedral in UK – at least to my mind. The following pictures tell the story, much better than I can ever do.
<![if !vml]>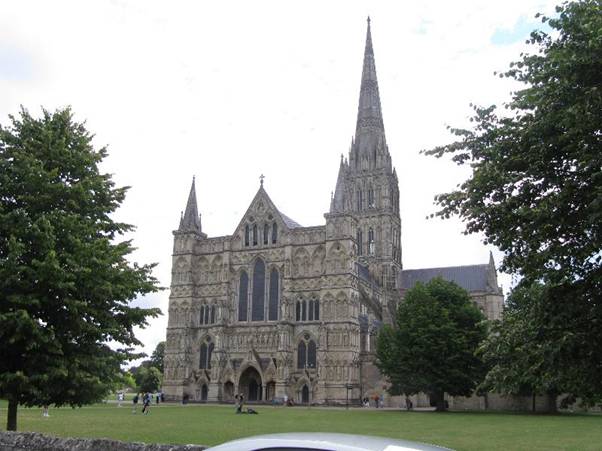 <![endif]><![if !vml]>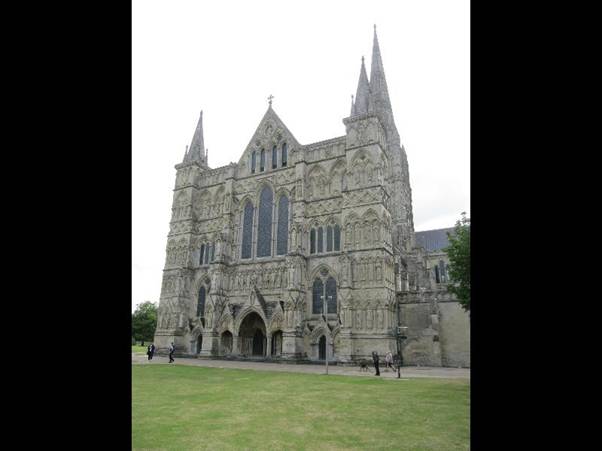 <![endif]><![if !vml]>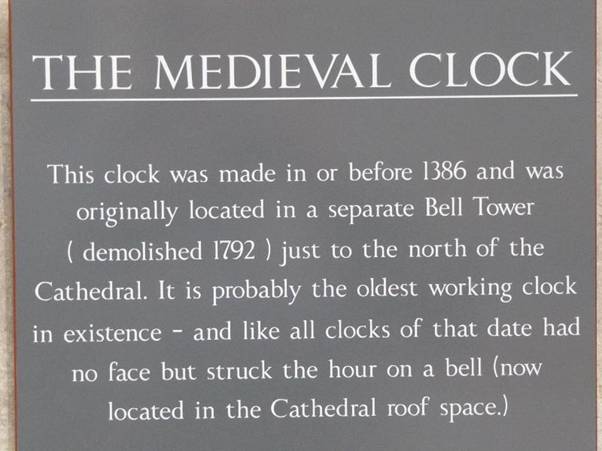 <![endif]><![if !vml]>
<![endif]><![if !vml]>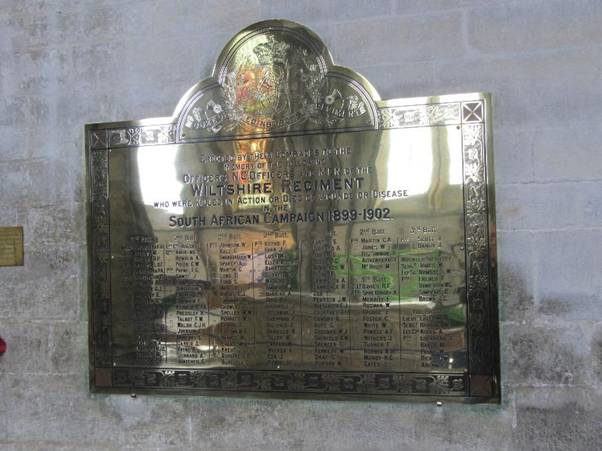 <![endif]><![if !vml]>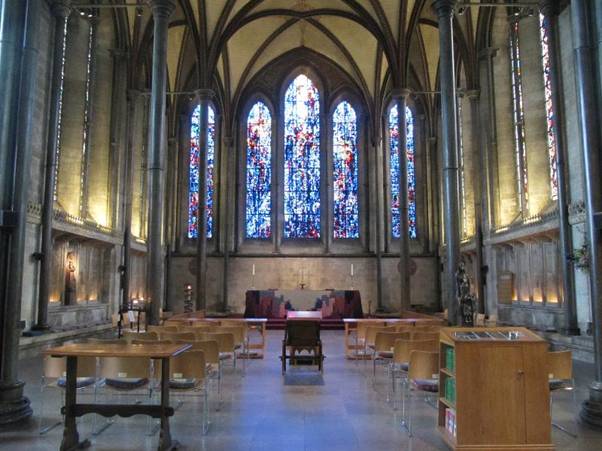 <![endif]><![if !vml]>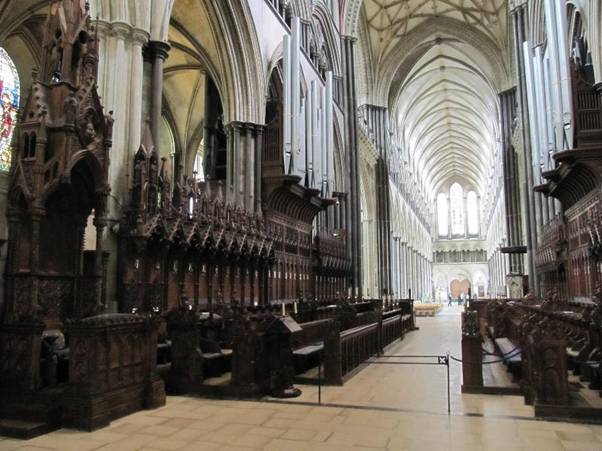 <![endif]><![if !vml]>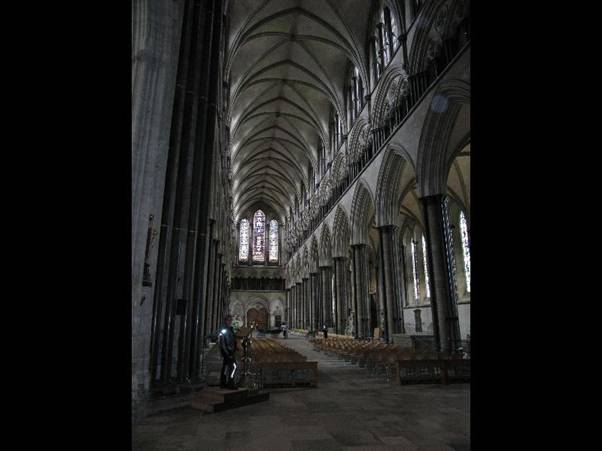 <![endif]>
This door not good for normal persons
<![if !vml]>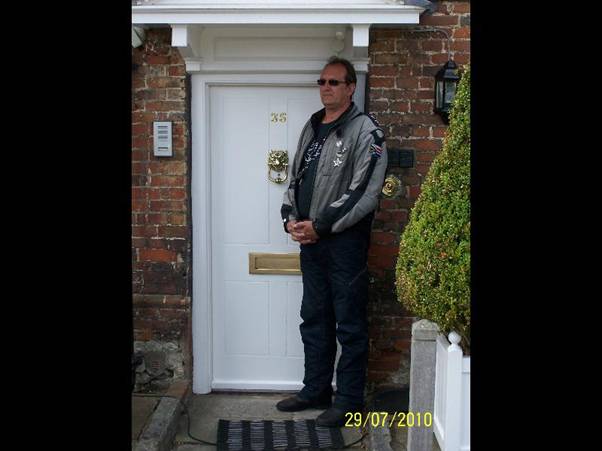 <![endif]><![if !vml]>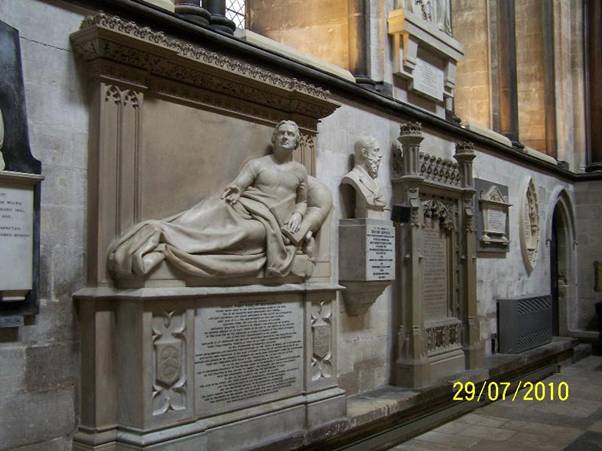 <![endif]><![if !vml]>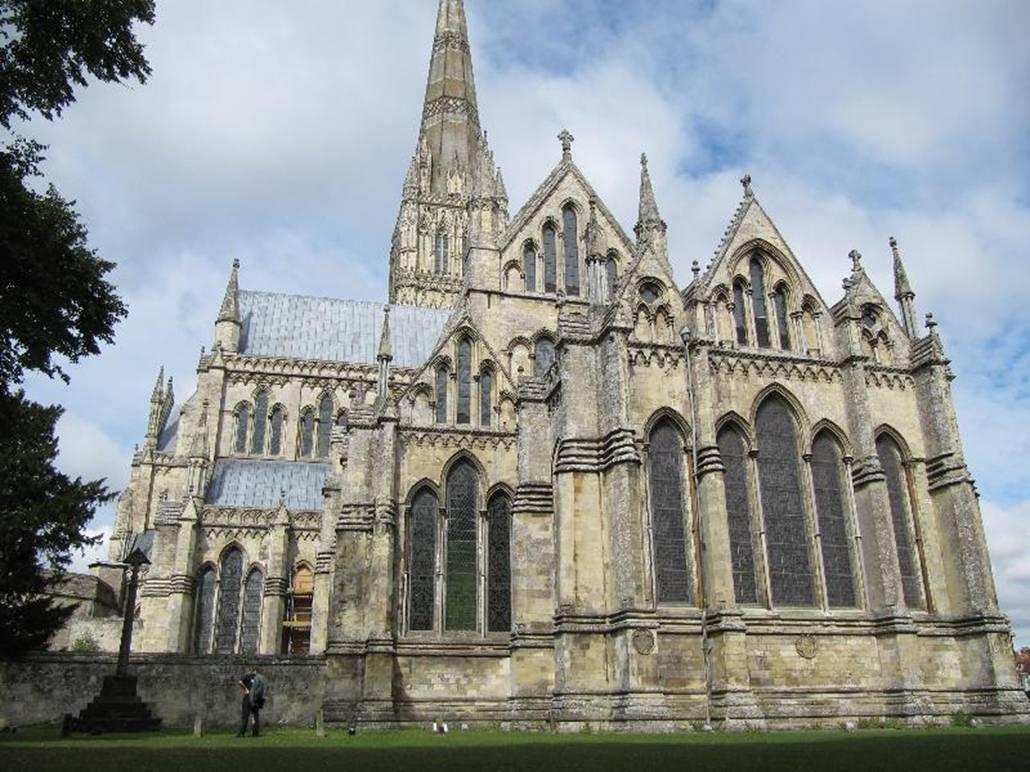 <![endif]>
Pen Dennis
When we left Eden Project earlier than planned and had some time to kill, we looked at the map and saw "Pen Dennis Castle". I thought it be the last resting place of the ocean liner that frequented past the Cape of Good Hope in the previous century as late as the 80's, I think. We set the GPS to the waypoint and started going south. Wonderful instrument a GPS – one never feels lost although one never knows where one is…
It was a beautiful country road winding along the coast of the southernmost tip of UK and when we arrived we found a real castle! No ship this time. Pen Dennis castle was built during the Roman times and expanded over the centuries until the Second World War when it became a museum rather than a fortress of protection – used solely to protect the bay of Falmouth against any onslaught. Being just 22miles from the southernmost tip of the UK we could nearly feel like touching home further South.
<![if !vml]>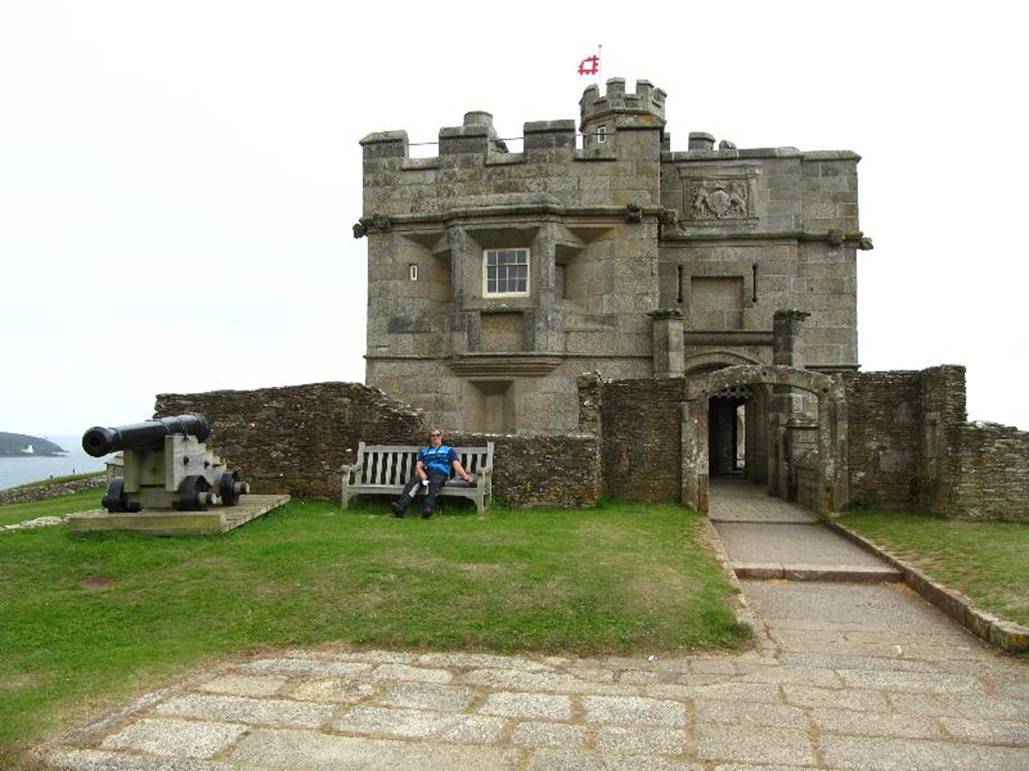 <![endif]>
Accommodation
Sleep
We booked two nights at Piccadilly backpackers in (of course) Piccadilly, London. The other nights at B&B are at various places. All the B&Bs were of good standard and rates varied between 50-65 Pounds per night for the two of us. Some include breakfast, albeit usually from 8 in the morning which is way too late for us travellers. In these cases we requested a packed breakie that we could enjoy en route where ever.
But Piccadilly Backpackers deserves mention for a very different reason;
Situated in a narrow street in the outskirts of Piccadilly and bordering the area of Soho it was at first difficult to find. Even the GPS took us around the block twice before we hit the front door, if one can call it a door. We were somewhat late and did not have any other choice so we booked in, with the RT parked around the corner as there is no parking legal or illegal in front of the lodging, nowhere in the whole street!
In SA we were quite accustomed to backpacker conditions and did not fear any different in the UK. What a surprise! At reception after swiping the plastic, two bed sheets and pillow cases were handed to us and we were informed of our room on the 7th floor. Fancy these plastic cards that one swipe in the door to unlock your room door and I thought not to be too critical about the surroundings, these guys are on the ball… We opened our room door and found it would not open full, bumping against the bed! A double bed with a single bunk above all against one wall with not more that 500mm open area around the three other sides. Our top-box could barely stand flat and we could barely move past each other. The bed however was comfortable when we eventually later that evening, and the second evening, stumbled in to nap.
Ablutions further up the corridor and round a corner are shared with others.
The rate? 66Pounds per night! Extra was 4.80Pounds parking for the RT two blocks up the street?
But the area was good enough consolation for these conditions as we enjoyed the night life of Piccadilly and Soho where it seems people never sleep. They party, theatre, visit knock/strip shows, or just loiter… without us ever feeling unsafe or out of place.
Eat
To eat out can be rather expensive and we decided not to test the restaurants, rather buy some rolls, cheese, tomato, ham, etc and do our thing anywhere on a pavement or a park, in our own tupper plates that we brought along from home just for this purpose. Washing all down with a good dose of red wine, usually South African which is freely available. Not being allowed to consume alcohol in public we used small plastic glases and poured the wine skelmpies when (we thought) no one was looking!
My first & last Guinness
<![if !vml]>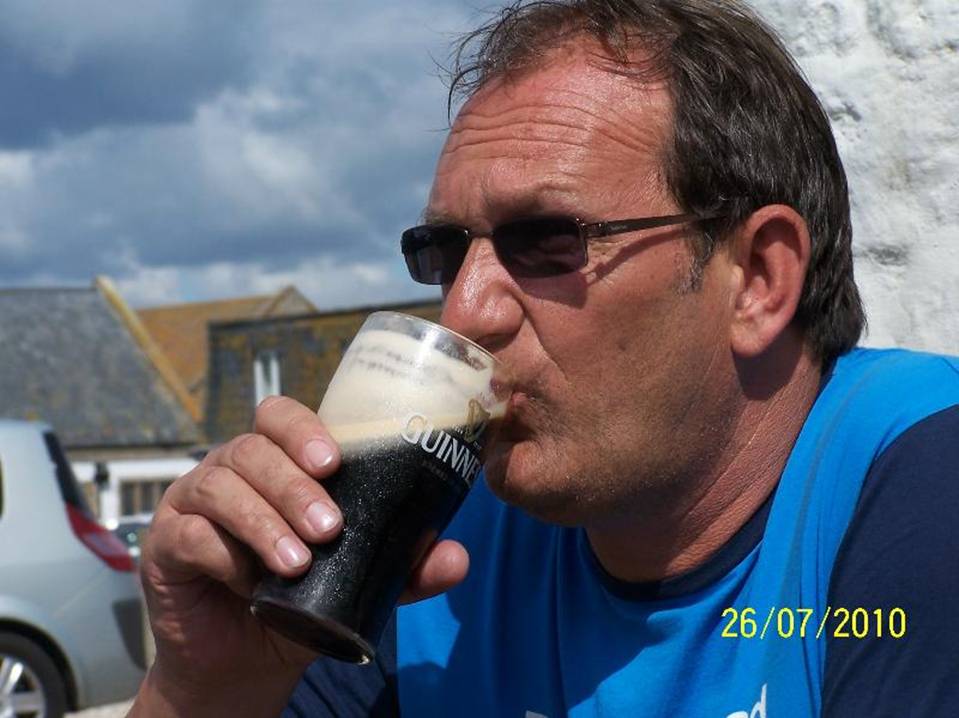 <![endif]><![if !vml]>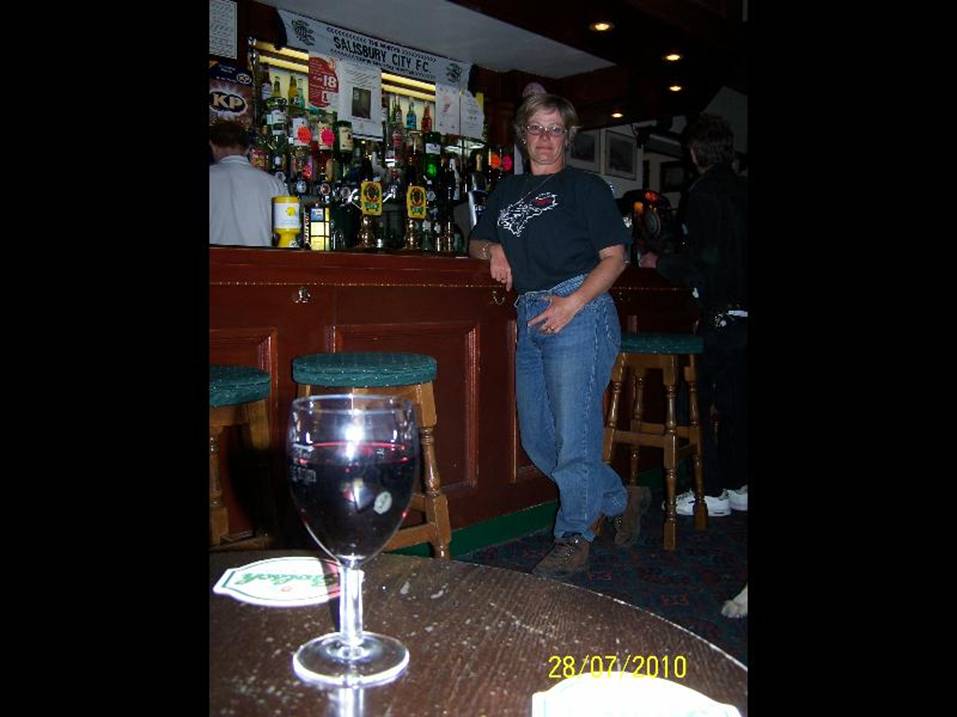 <![endif]>
<![if !vml]>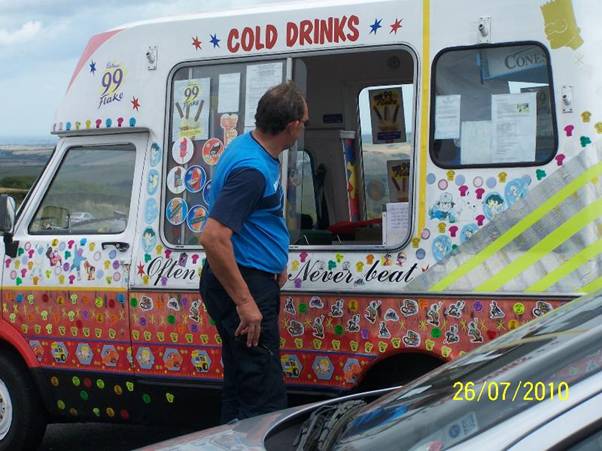 <![endif]><![if !vml]>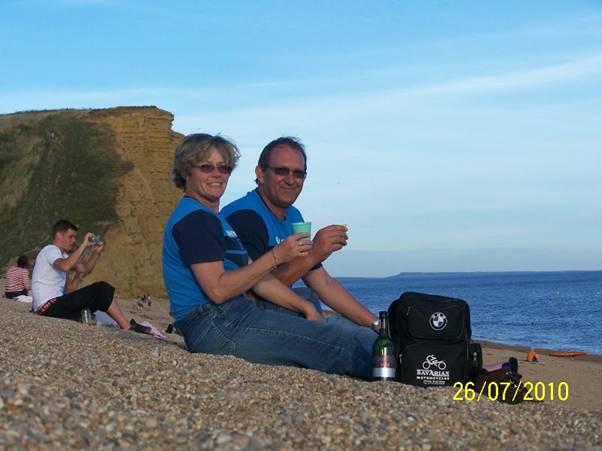 <![endif]>
<![if !vml]>
<![endif]><![if !vml]>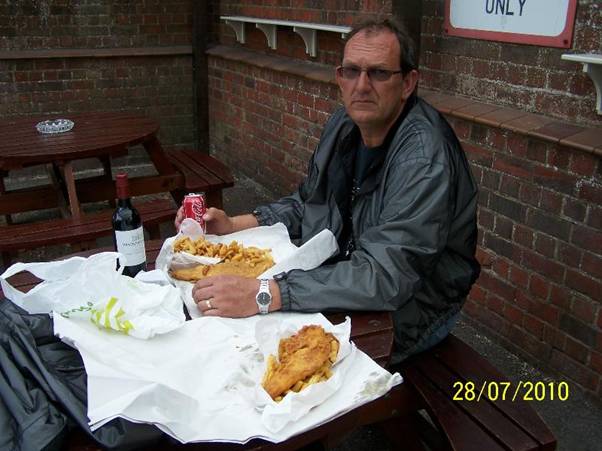 <![endif]><![if !vml]>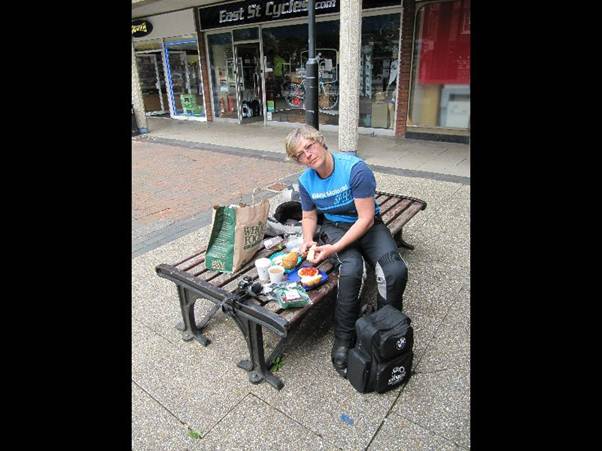 <![endif]><![if !vml]>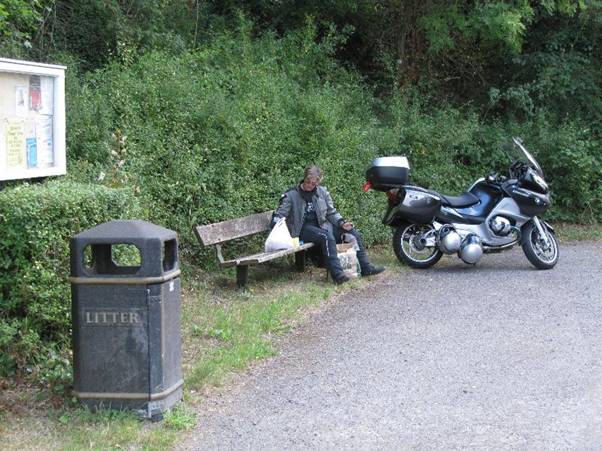 <![endif]><![if !vml]>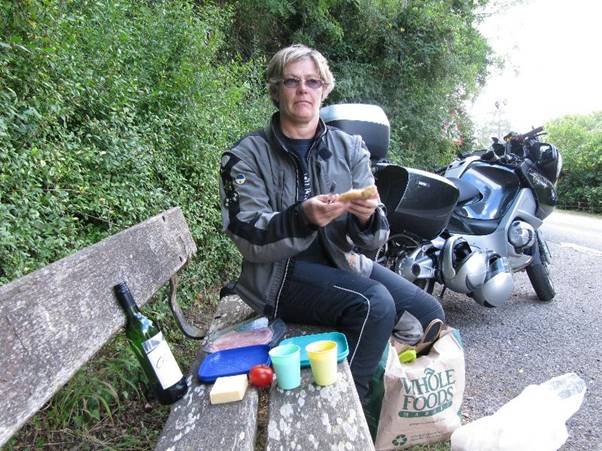 <![endif]>
Other times we tried the odd English pub and enjoyed that tremendously, specially the pints they are so well known for. Not being a beer drinker myself I always asked for light beer, but was nowhere to get. The lowest was 3.8% alcohol stuff. Also good enough when Klippies & Coke is non existent.
<![if !vml]>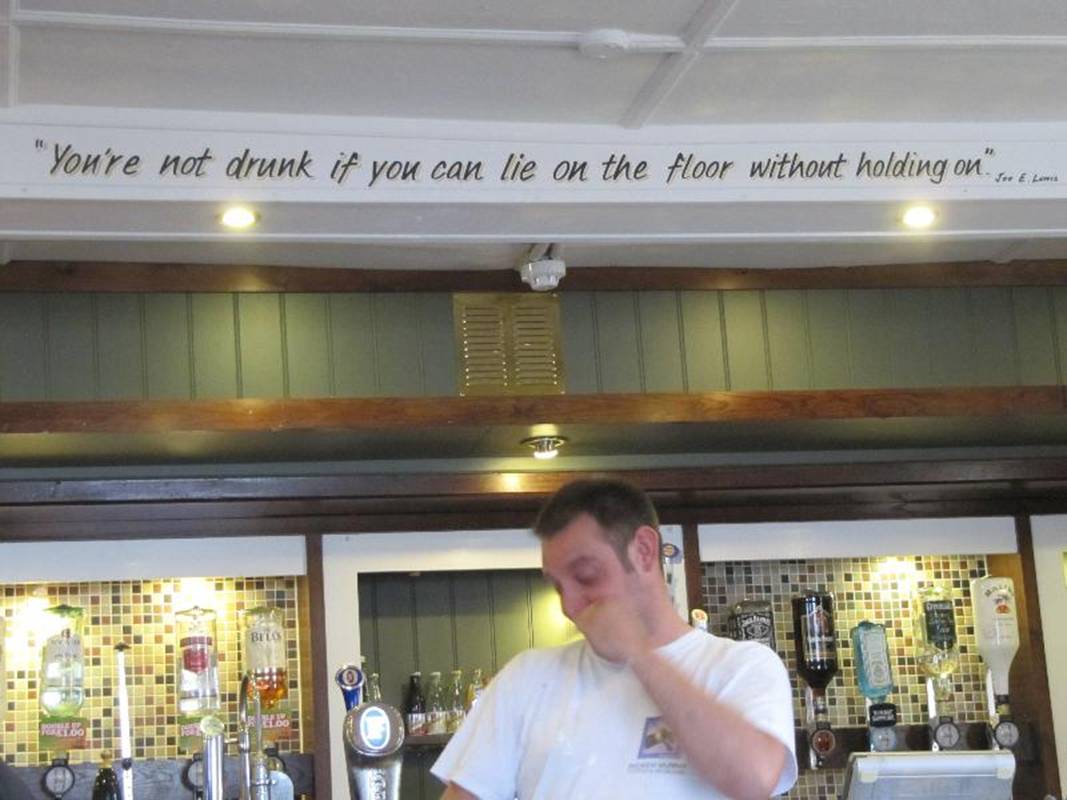 <![endif]>
Site scenery & Parks
Isle of Whyte
We took the ferry from Lymington and rode around the island looking for some ancient relics. The rest of the island is similar to mainland and we at that time had enough of castles and old buildings. We found the Roman Villa. A resort developed by a rich Roman many centuries ago. The archaeology is still in process and is an interesting site to visit
Stonehenge
Stonehenge didn't impress us and the odd 7.6Pounds entrance fee scared us off. We could stand the same distance from the rocks as the people that paid just on the other side of the fence. So I took one picture to show we were there and Trudie took some close-ups to impress others, not seeing then (but only later) that there was a fly on the board she was photographing. Big fly that is if it was for real on the rocks!!
<![if !vml]>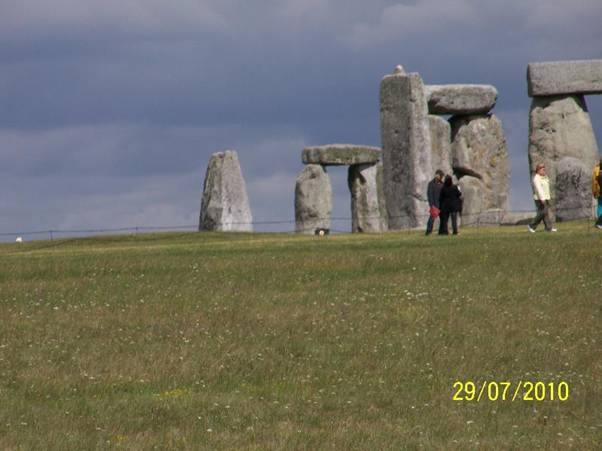 <![endif]><![if !vml]>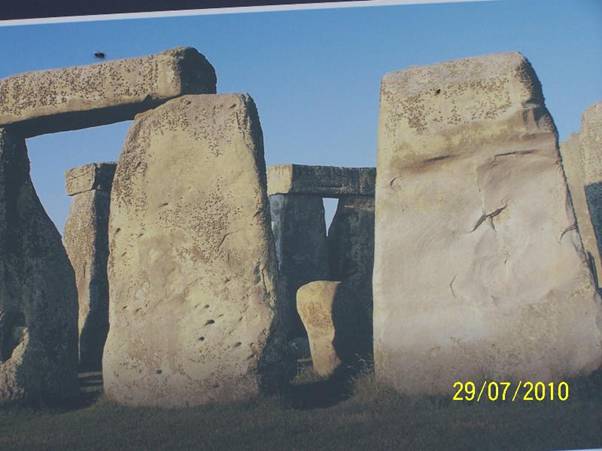 <![endif]>
Eden Project
Now this is a place to visit! We nearly missed the opportunity as it was so outlying and not in our original planning. We made an effort to adjust our itinerary and were blessed with a wonderful experience. Eden project was developed in a worked out clay pit and successfully tries to show the visitor what the influence of modern development on nature and specially plant life is. There are huge structures that house tropical plants in tropical climates throughout the year. Also other climate examples. All to educate the visitor. And in the restaurant a diagram of what the population of the earth is made of if reduced to only 100. Make<![if !vml]>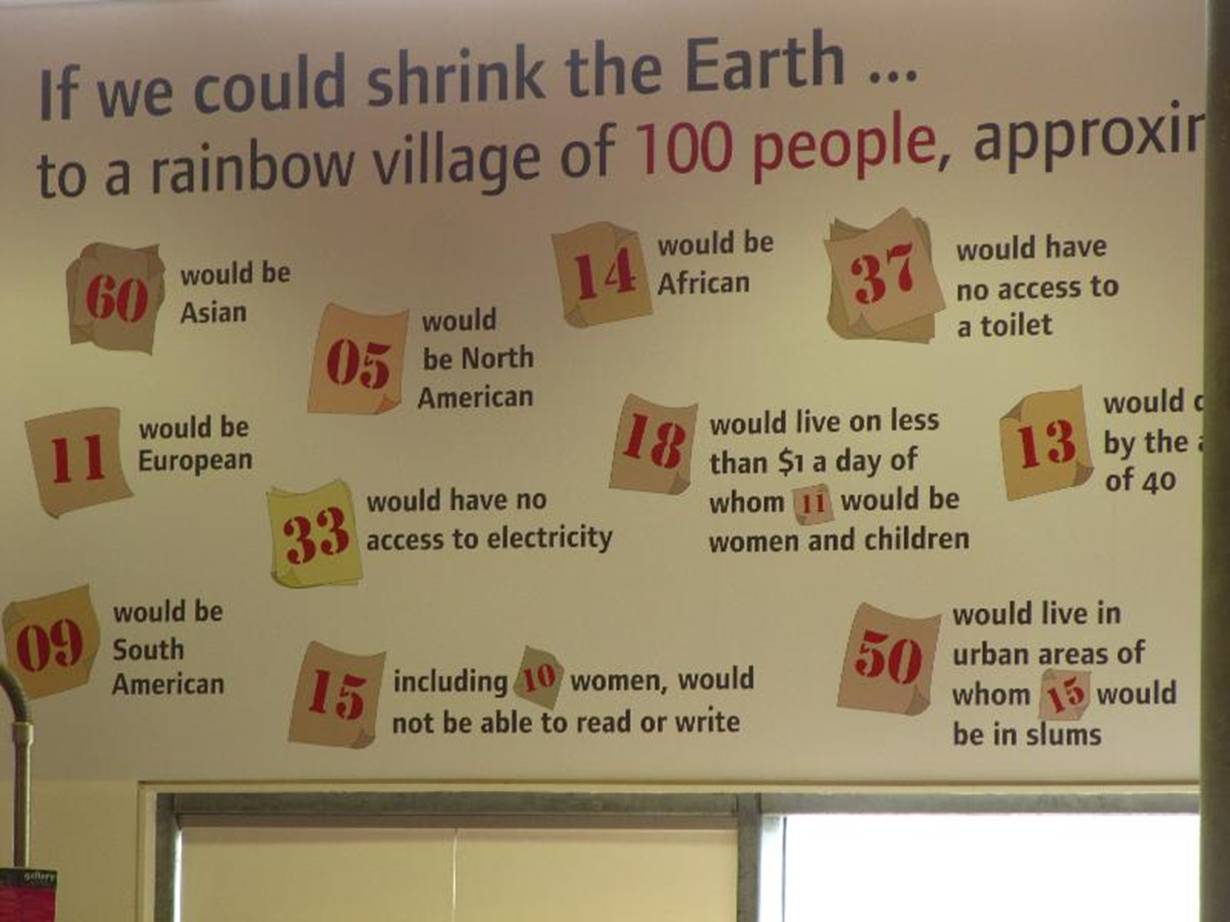 <![endif]>s one think…
<![if !vml]>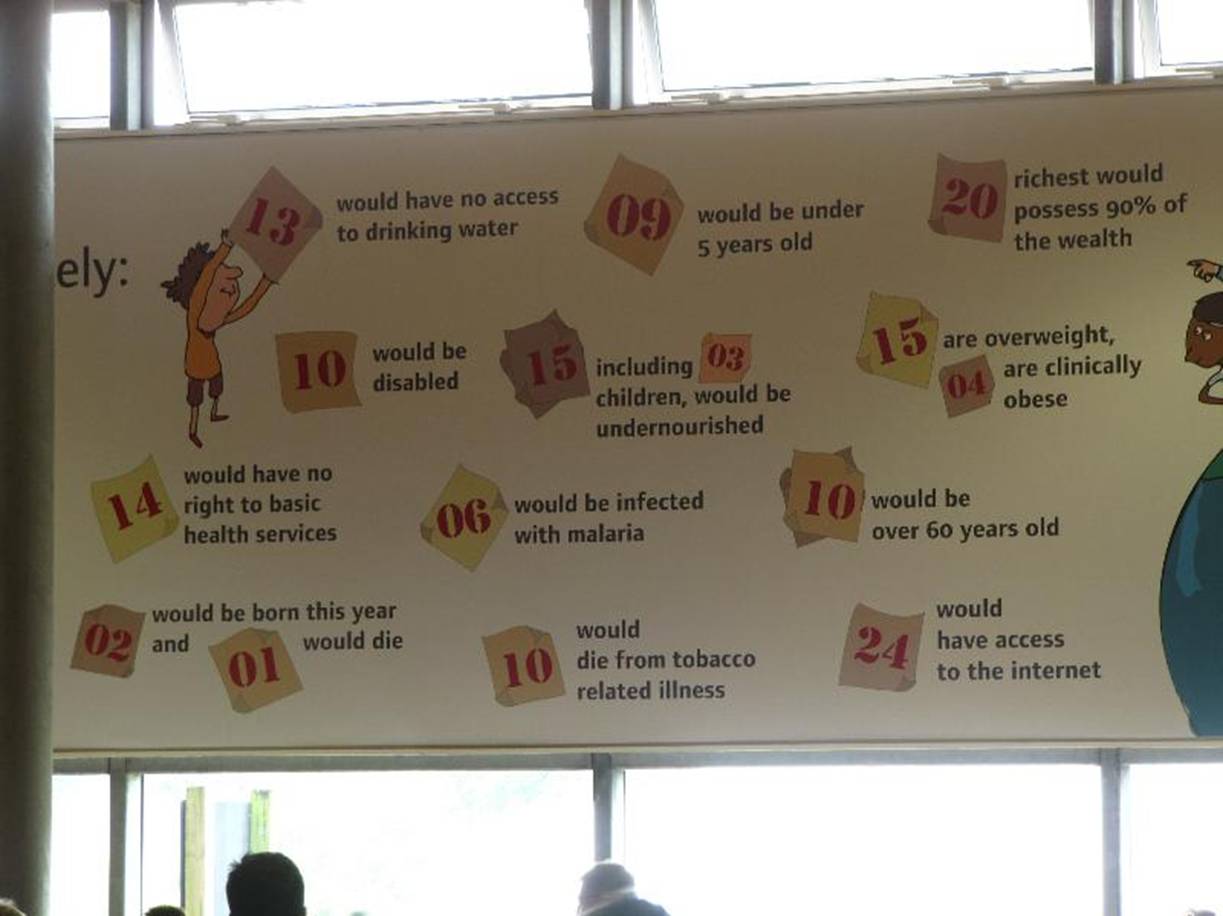 <![endif]><![if !vml]>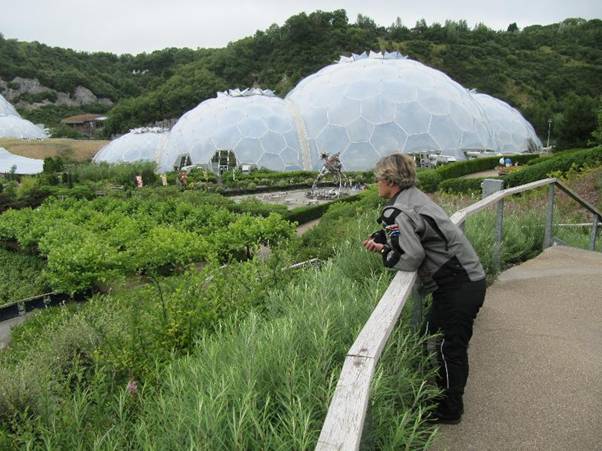 <![endif]><![if !vml]>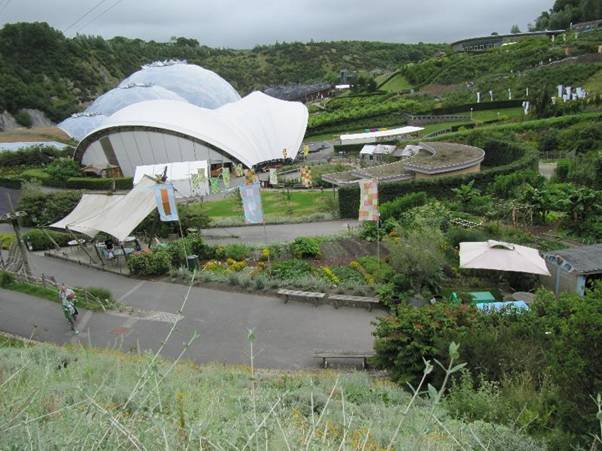 <![endif]><![if !vml]>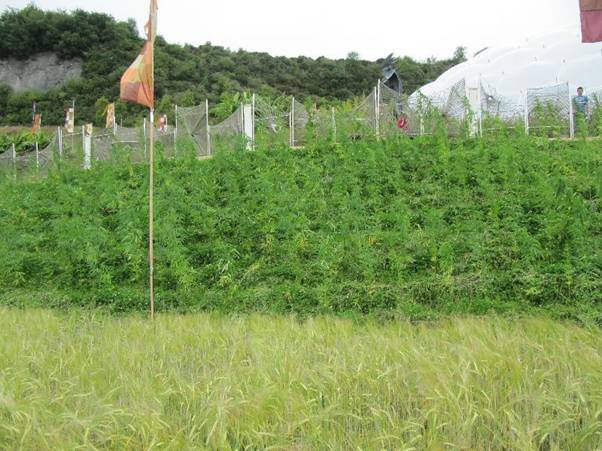 <![endif]>
This looking familiar? They call it hemp<![if !vml]>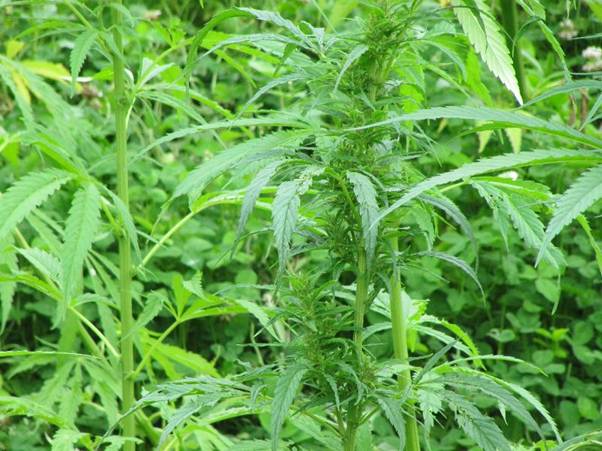 <![endif]><![if !vml]>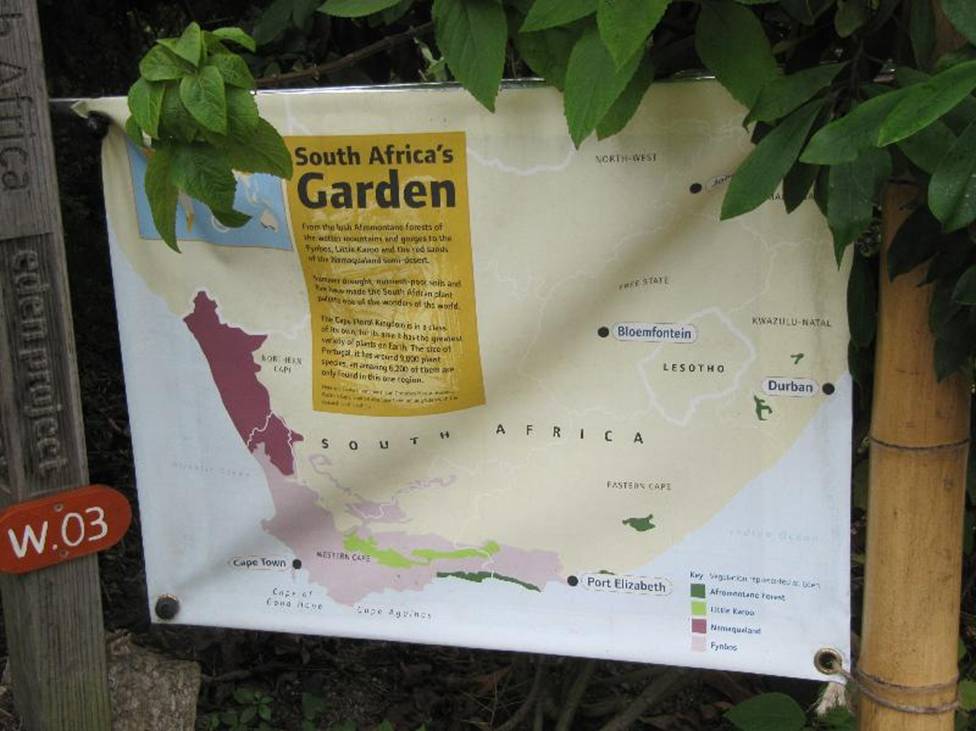 <![endif]>
Even the utensils are organic
<![if !vml]>
<![endif]>
<![if !vml]>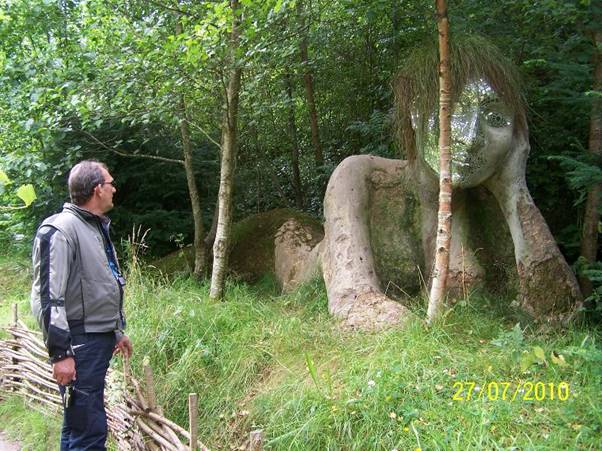 <![endif]><![if !vml]>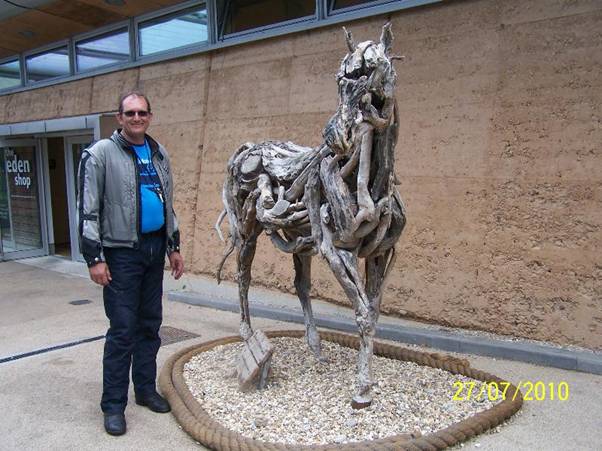 <![endif]>
Eye of London
London, being an ancient city doesn't have many sky scrapers where visitors can experience a bird's eye view. The Eye was put up for the millennium and supposed to be demolished after five years. It is now 10 years later and there is still an endless queue to gain entrance. We were fortunate (and clever) to book and pay in advance for the priority line where one pays for entrance on a certain day but not stating the time of arrival. Upon arrival one's identity is checked and then moved to the front of the que. At that time there could have been over 400 people waiting to gain entrance. At a premium of about 60% extra it is still a wise decision and we enjoyed the experience tremendously.
<![if !vml]>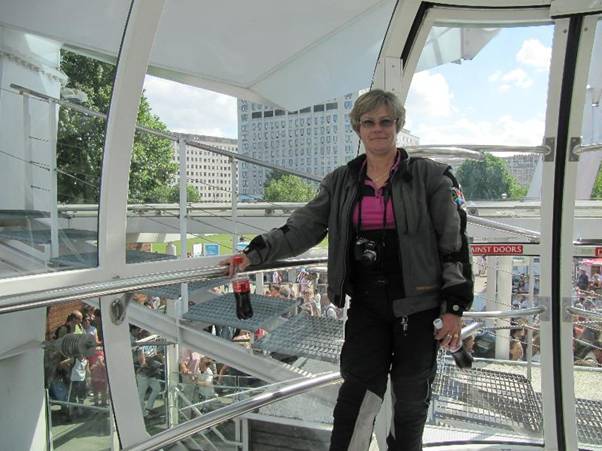 <![endif]><![if !vml]>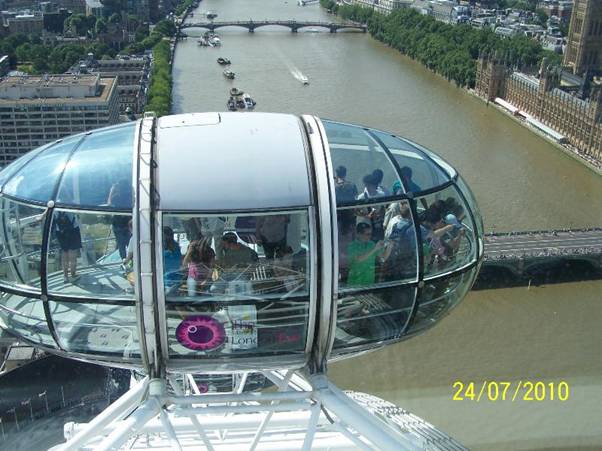 <![endif]><![if !vml]>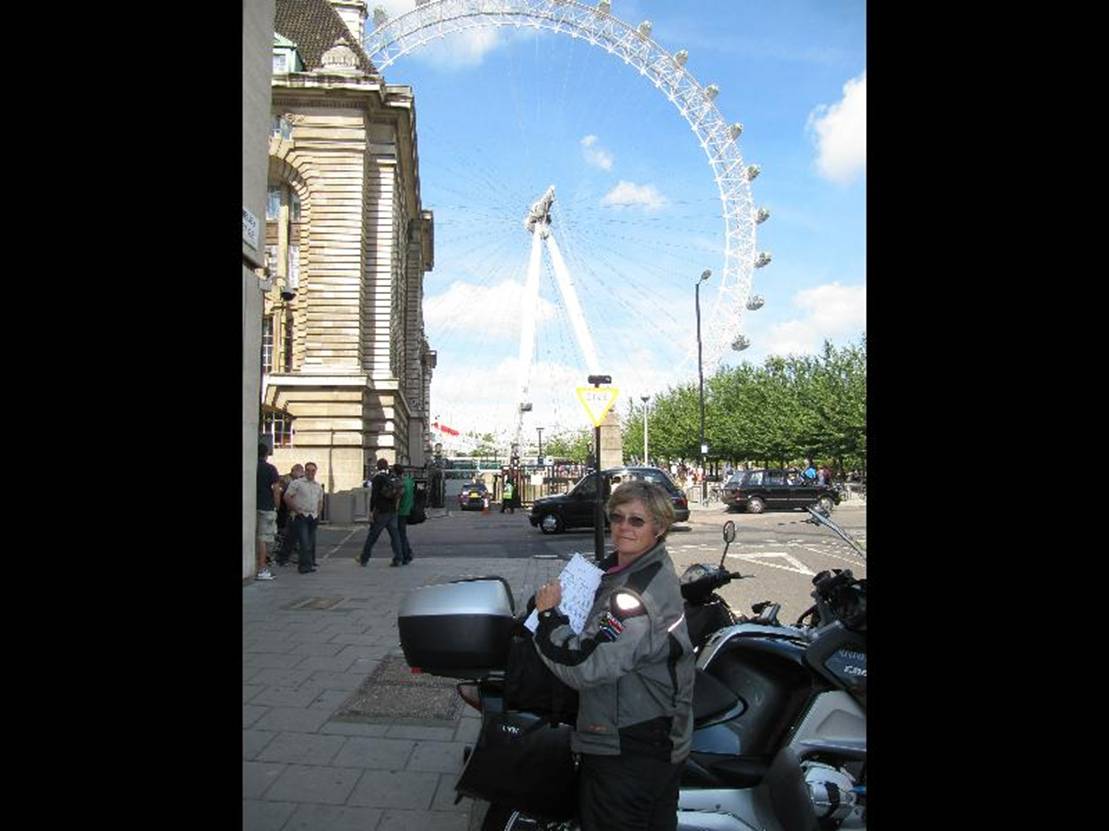 <![endif]>
New Forest
A natural forest of many square miles on our journey down South where we took the time of just riding in nature under endless canopies of embracing tree branches and leaves and at times a carpet of soft natural flora. Splendid.
<![if !vml]>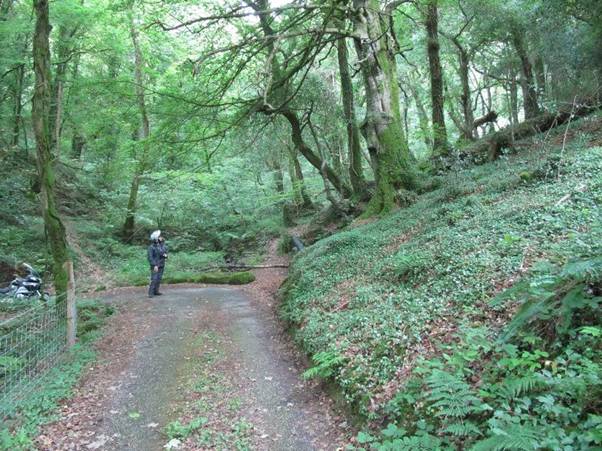 <![endif]><![if !vml]>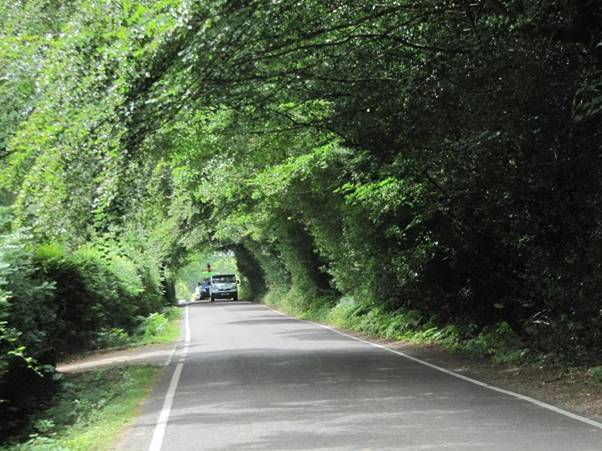 <![endif]><![if !vml]>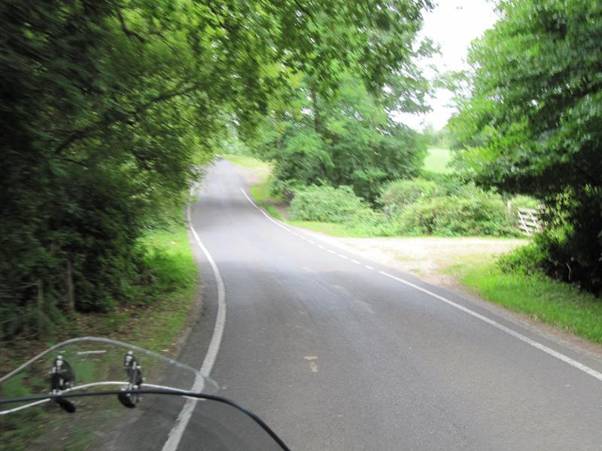 <![endif]><![if !vml]>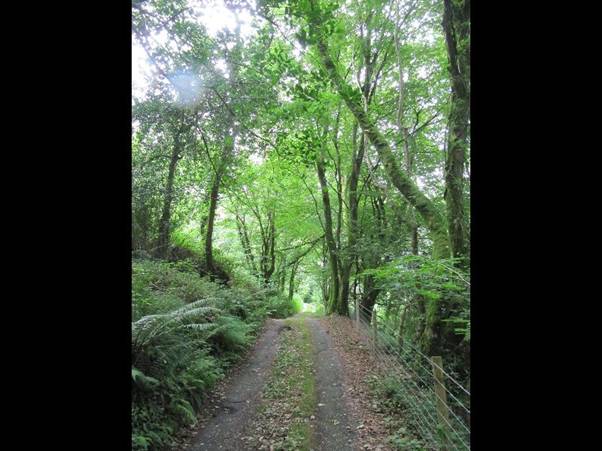 <![endif]>
Tales
Daylight robbery
During the Late 1600s the king set additional taxes or fireplaces in private homes. The population got the moer in and would not allow inspectors into their homes to do the counting. As it was custom to have several fireplaces sharing one chimney it was not good to count the chimneys. When the burocracy realised they were outsmarted they changed the tax to windows. A household having more than 6 windows facing outside were taxed. People then started to build up the additional windows. Hence the term daylight robbery.
Magna Carta
Upon visiting Salisbury Cathedral there was in a side room an exhibition of artefacts from the Magna Carta era. I was not interested in that other than the term itself. Many years ago, cannot remember if it was Staatsleer II or III, I learnt about Magna Carta. But could not place any meaning to the words. I asked the old gentleman doing duty in the room and he agreed it had something to do with Constitution; in fact a lot! At those early times, customs, rituals, tradition and laws were not written but lived mostly in the minds and souls of the population. But King John started to take liberty and overstepped his privileges. The Barons got together and discussed the King's actions and confronted him. The decision was made to start the write up for the sake of future generations. This saw the first of the modern constitution as we know them today.
When at home after our holiday, I looked in my Staatsleer handbook  Modern Political Constitutions and there it was, and I quote: "All through the period from 1066 there was a struggle going on between the king and the Barons whose opposition to the Crown on the head of a weak king led to anarchy in the earlier part, as in the reign of Stephen, but took a more regularized form in the later, as seen in the document called Magna Carta, under John."
What touched our hearts & souls
The centuries old culture
The UK is one very large museum and monument of the development of the modern lifestyle and culture as we civilised people got to know it. Walking through the streets of London, or any other small town in the countryside one cannot help wondering what happened before in the previous 2000+ years. The land feels in a query way, sacred. Full of memory. One needs to stand quiet and just listen…
There is too much to fathom for one human in one lifespan.
Like the one afternoon on our way back from Pen Dennis (a 520km ride on the day) we stopped in a little town called Honiton. Trudie trotted over the street to a grocer for our usual dinner of rolls, cheese, etc and I was waiting at the bike. Without interest looking at this uninteresting building housing a modern furniture store while the manager was watering the hanging gardens just before closing. My eye caught a plaque on the wall. Read the picture below…
<![if !vml]>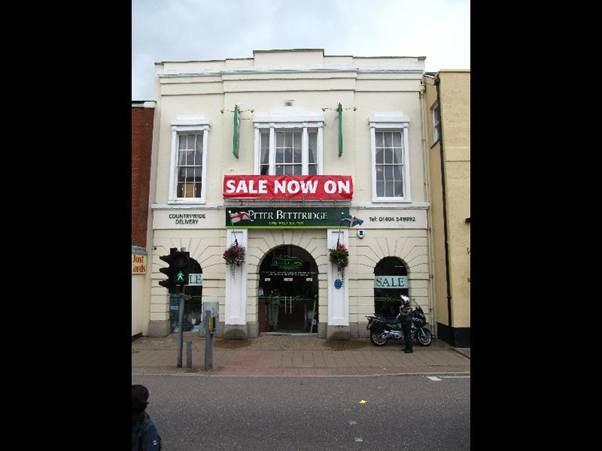 <![endif]><![if !vml]>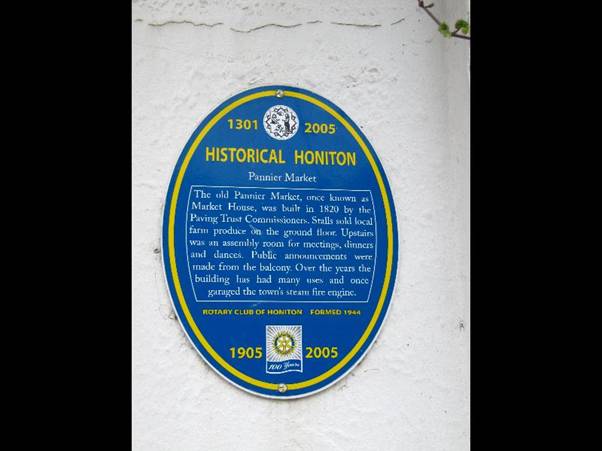 <![endif]>
I asked the manager politely if what is written on the plaque is true and he replied:" Indeed Sir, and there is many more to see this country. We are living in a living museum"
True words from a proud citizen.
The Legs of Trafalgar
The two days we spent in London ended every time at Trafalgar square, about 20 min walk from the backpacker. We spent a few hours there and with the sun setting after nine, the days were long and hot. Plus 20C every day. And many girls wore their shorts… for me and others to enjoy and grin about. Nice to have a 12x zoom on the camera too!
<![if !vml]>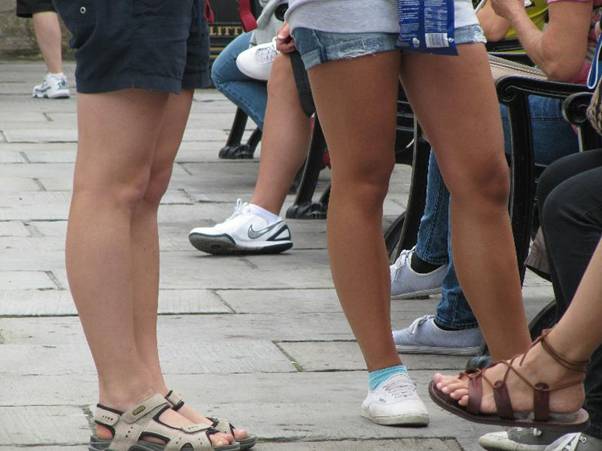 <![endif]><![if !vml]>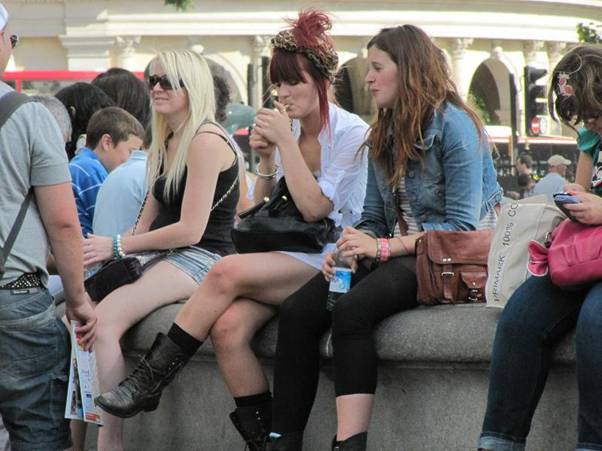 <![endif]><![if !vml]>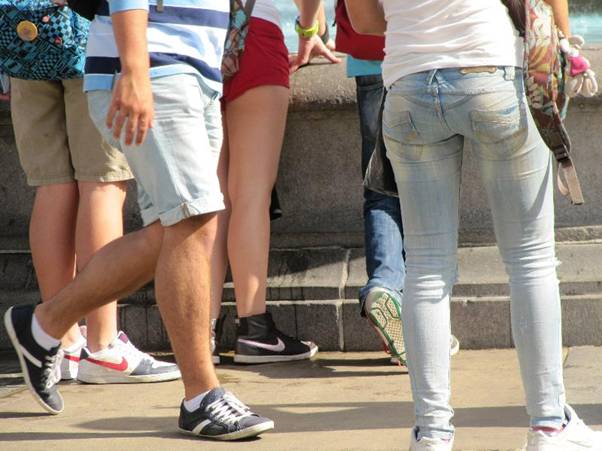 <![endif]><![if !vml]>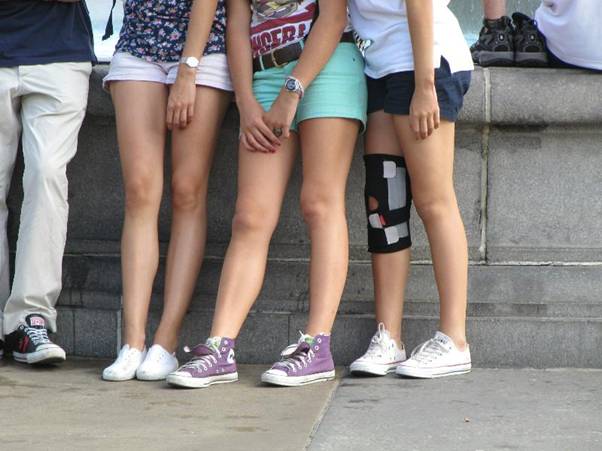 <![endif]><![if !vml]>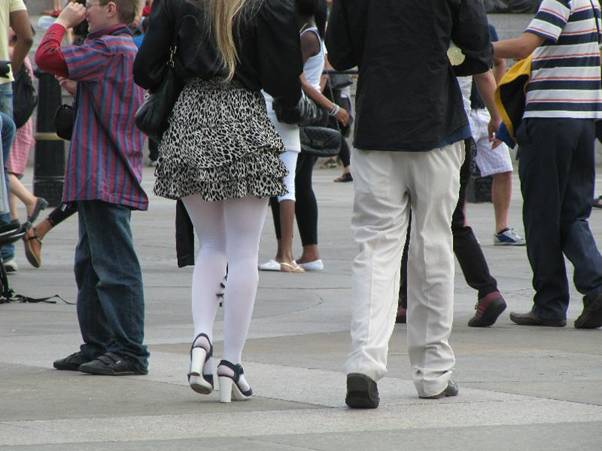 <![endif]><![if !vml]>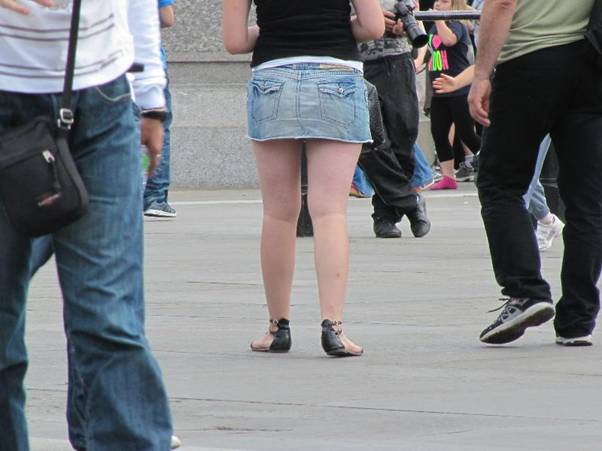 <![endif]><![if !vml]>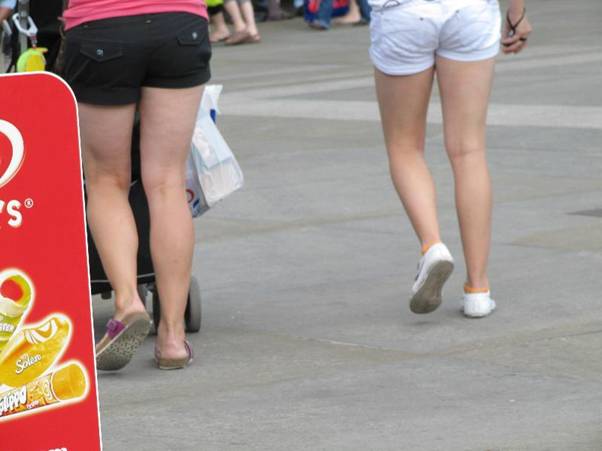 <![endif]><![if !vml]>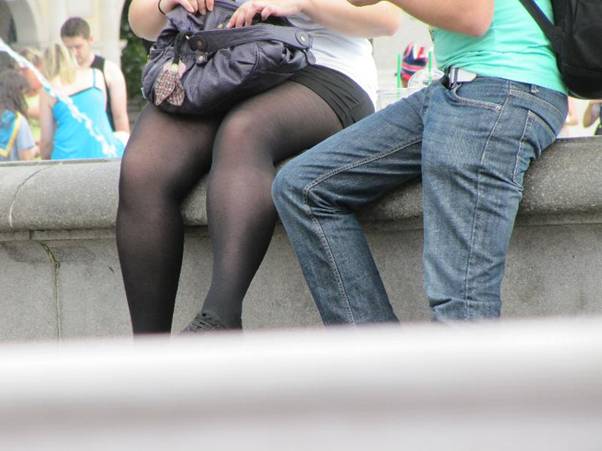 <![endif]><![if !vml]>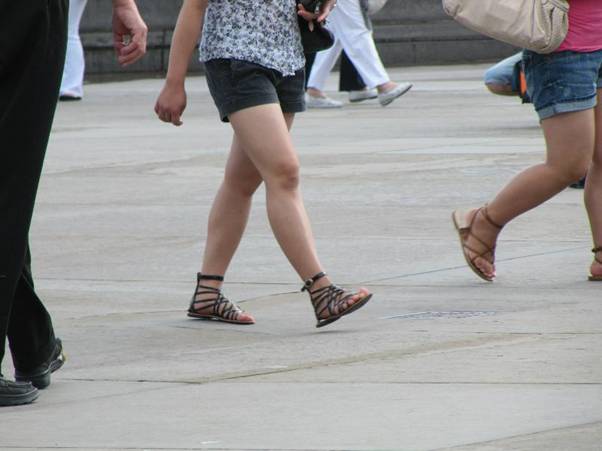 <![endif]><![if !vml]>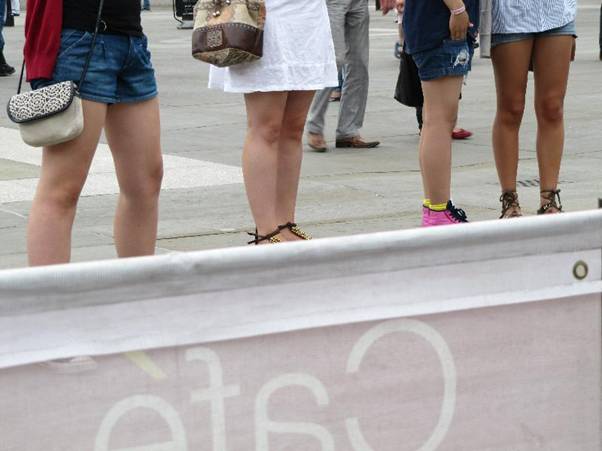 <![endif]><![if !vml]>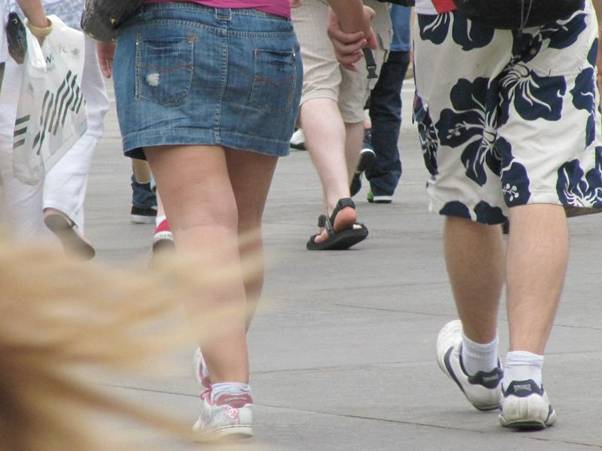 <![endif]><![if !vml]>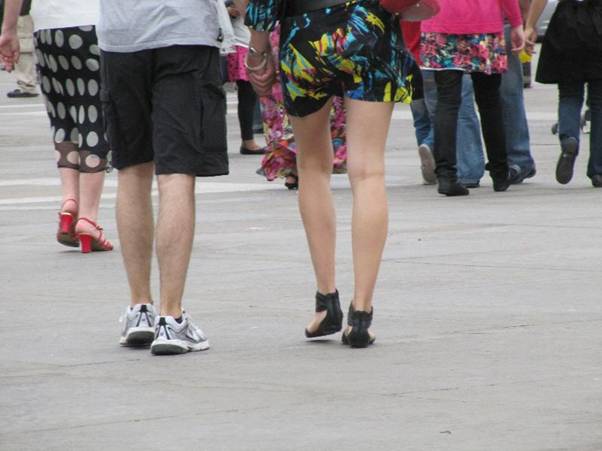 <![endif]><![if !vml]>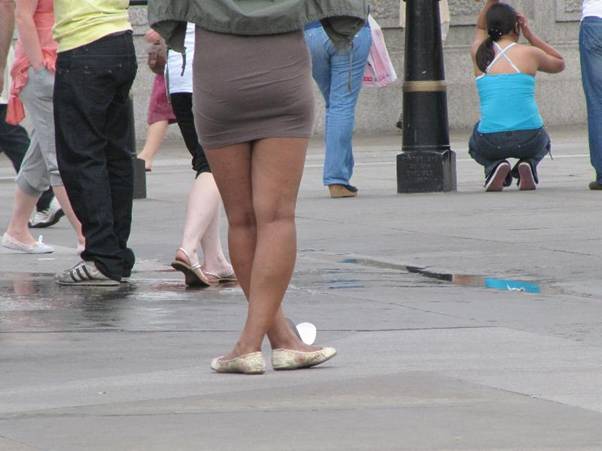 <![endif]><![if !vml]>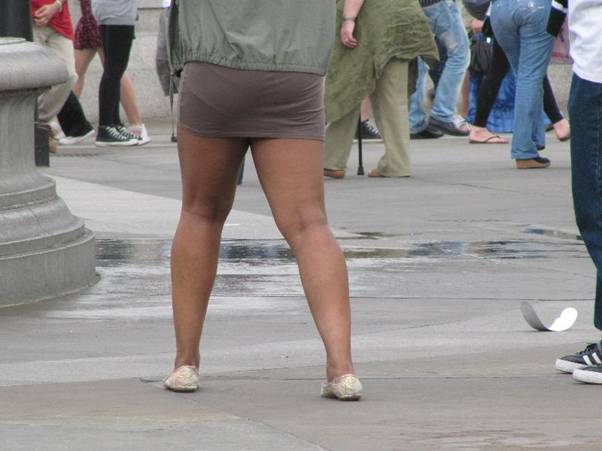 <![endif]><![if !vml]>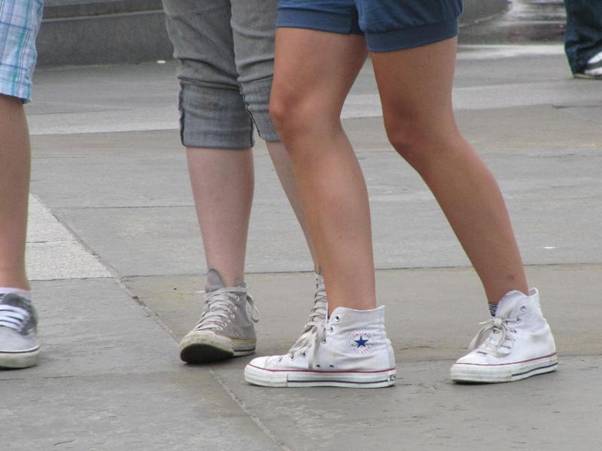 <![endif]><![if !vml]>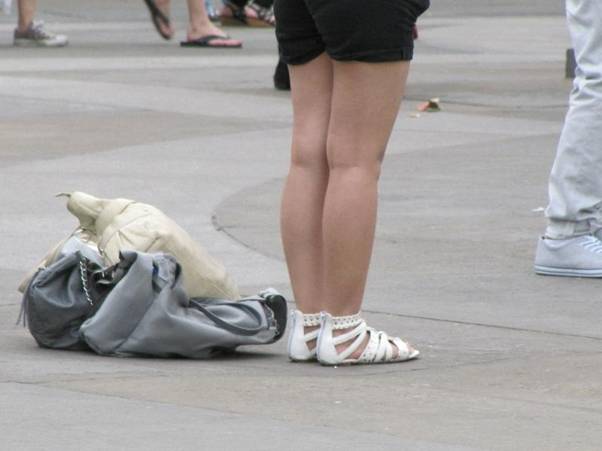 <![endif]>
And the winner is…
<![if !vml]>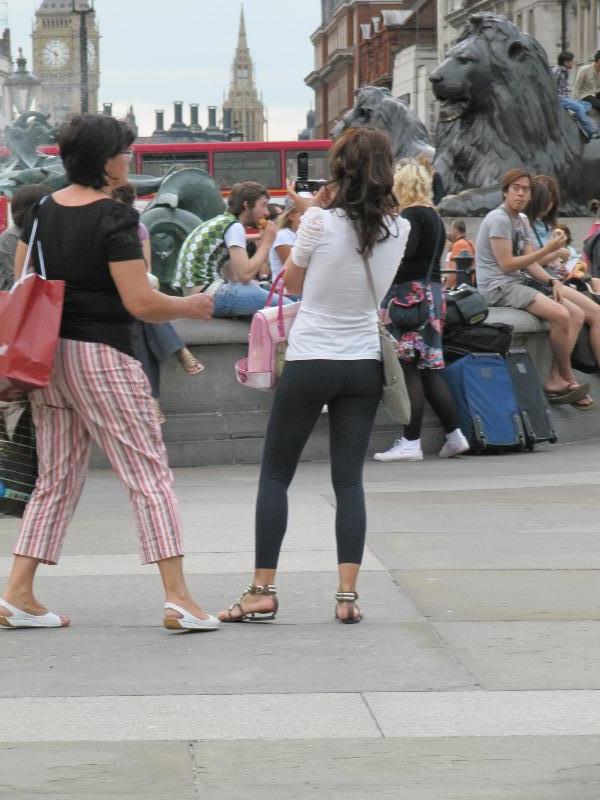 <![endif]><![if !vml]>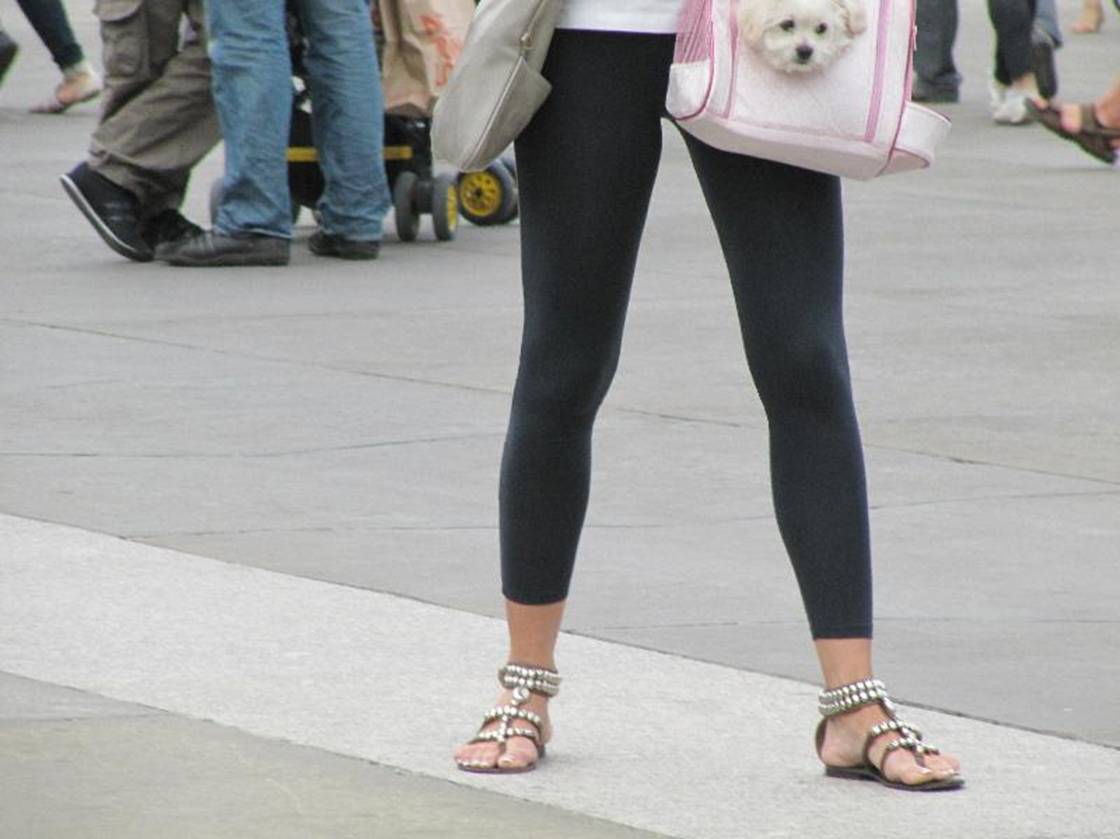 <![endif]>
Animals in war
The English is known not to forget those who served the nation, living or dead. And there are numerous statues and monuments of known and not so known individuals all over the country. These we passed by respectfully except the one we saw when passing at speed on our way to Buckingham Palace. Trudie and I saw it simultaneous and I made a U-turn there and then. It was a monument for the "Animals in War" – because they had no choice! Heart breaking and so fitting…
<![if !vml]>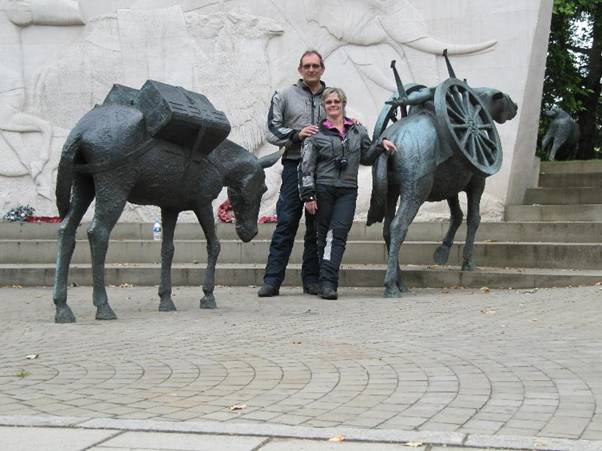 <![endif]><![if !vml]>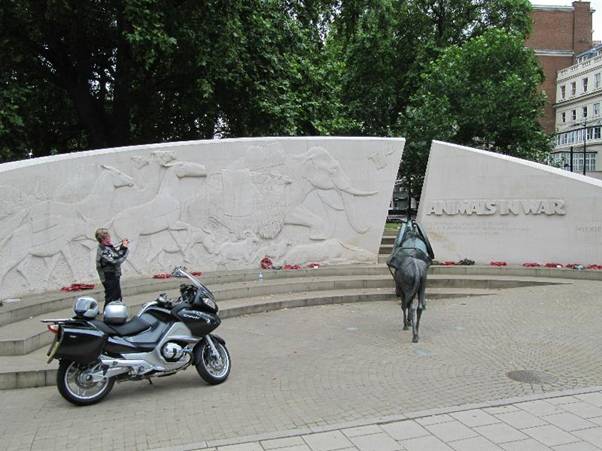 <![endif]><![if !vml]>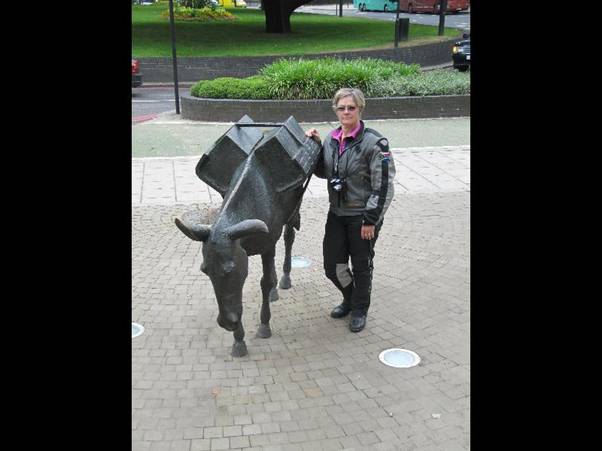 <![endif]><![if !vml]>
<![endif]><![if !vml]>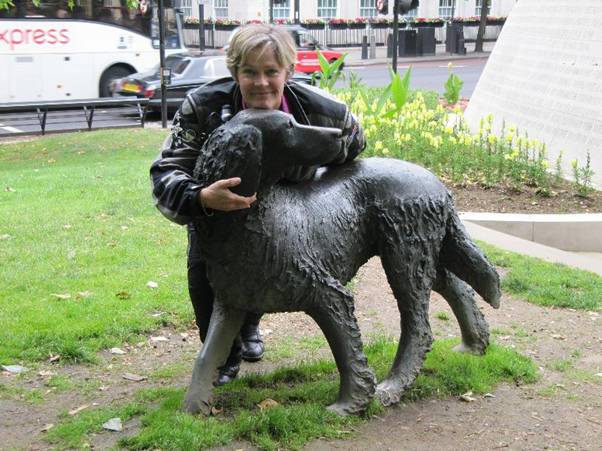 <![endif]>
The Legend of Bath
It is said that the son of a Roman Cesar was deported from the clan when he picked up leprosy. Nobody would have anything to do with him and he worked as a pig warden. After some time he saw the pigs frequenting at a fountain and these pigs were in better condition than other pigs of the area.
He decided to roll in the mud around the fountain and in time he healed from the leprosy. He returned home and his father was overwhelmed with joy about his recovery and his story. After his father's death he inherited the throne and ordered a bath to be built around the fountain to be used by anybody with any ailment. Hence the Baths as we see them today.
Hanging gardens
The hanging gardens are all in bloom and it seems as if each landlord tries to compete with his neighbour on the flowery scene outside. With virtually no garden area this is the only way of showing off some colour, and very efficient indeed!
Only pictures can describe the beauty.
<![if !vml]>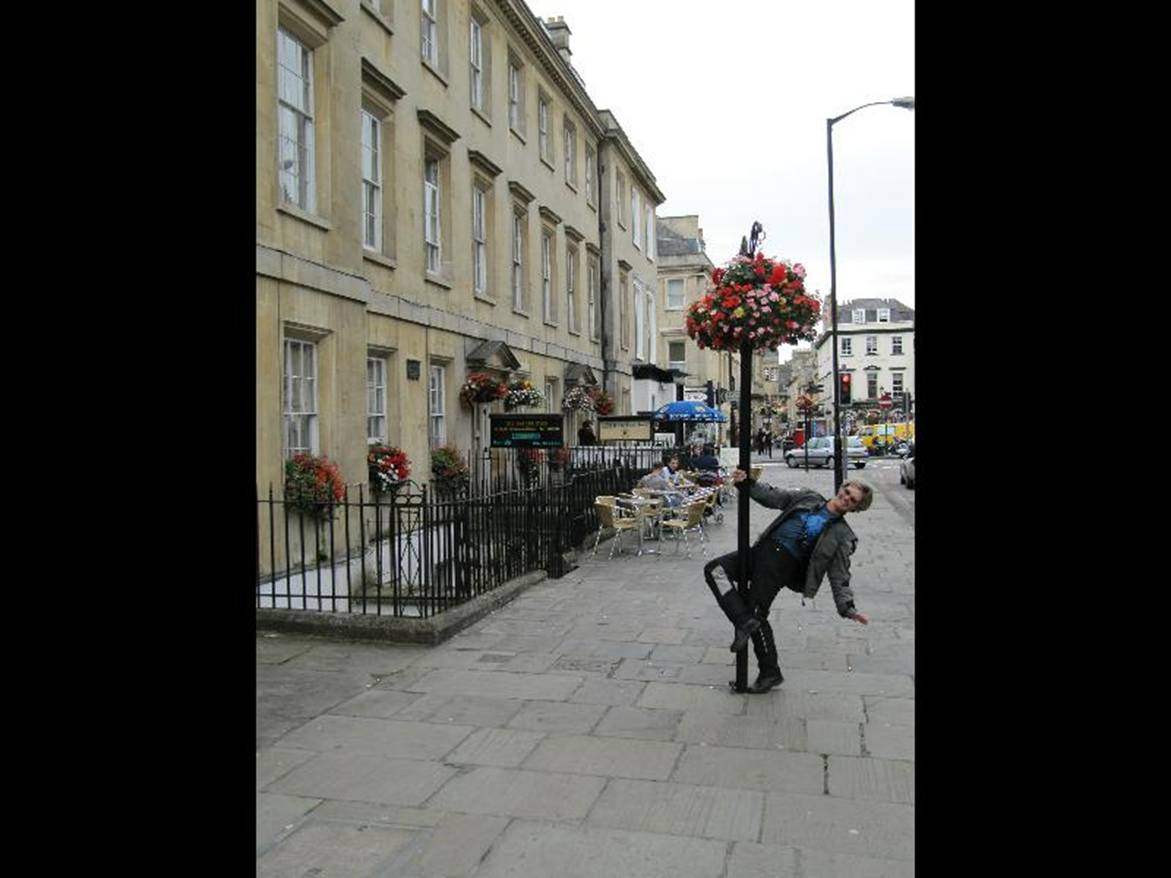 <![endif]><![if !vml]>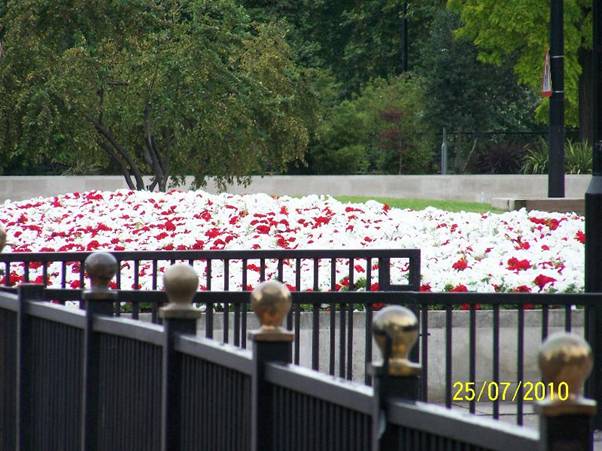 <![endif]><![if !vml]>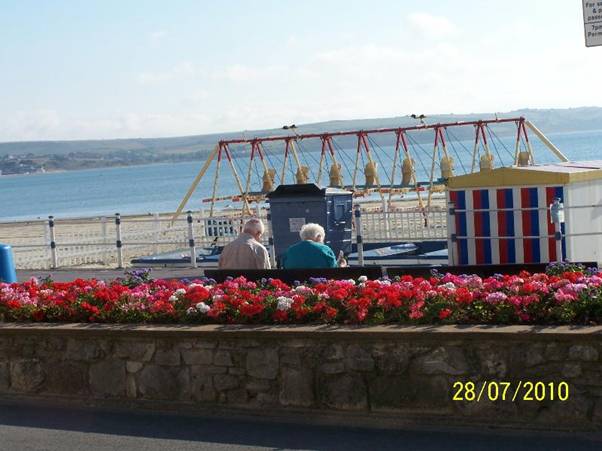 <![endif]><![if !vml]>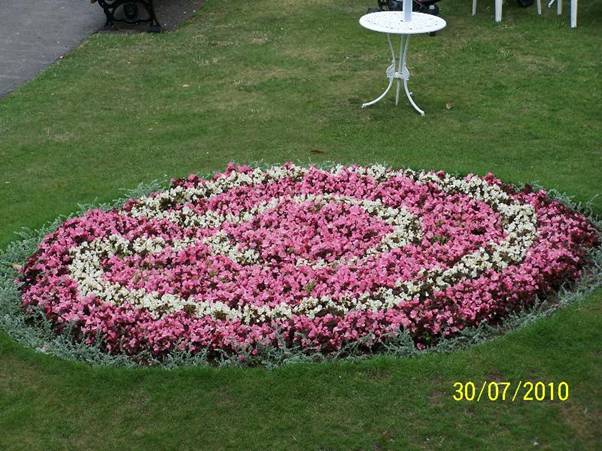 <![endif]><![if !vml]>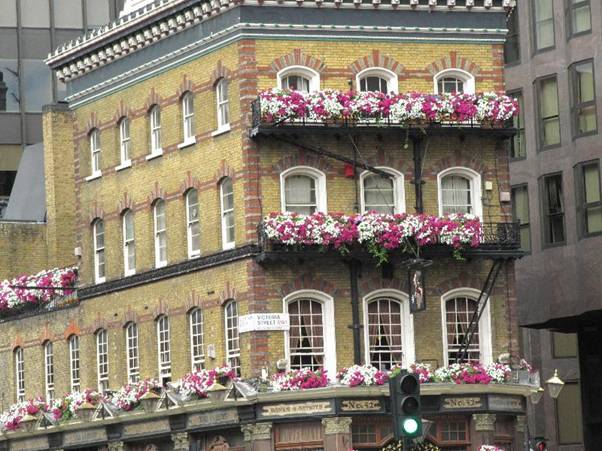 <![endif]>
Piccadilly & Soho at night
Pictures speak a thousand words.
<![if !vml]>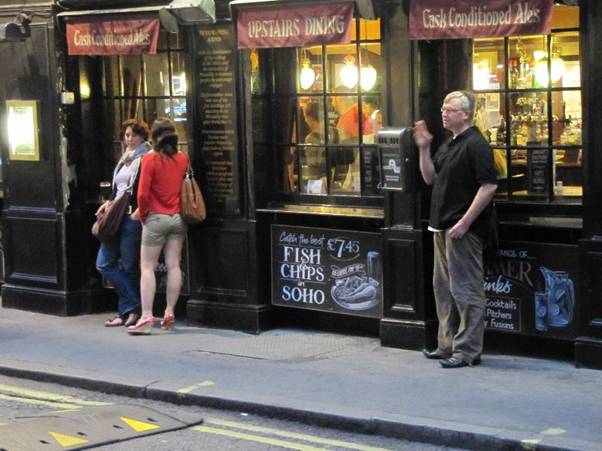 <![endif]><![if !vml]>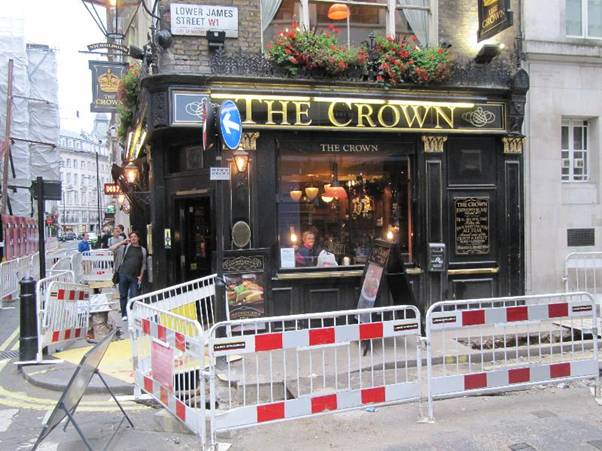 <![endif]><![if !vml]>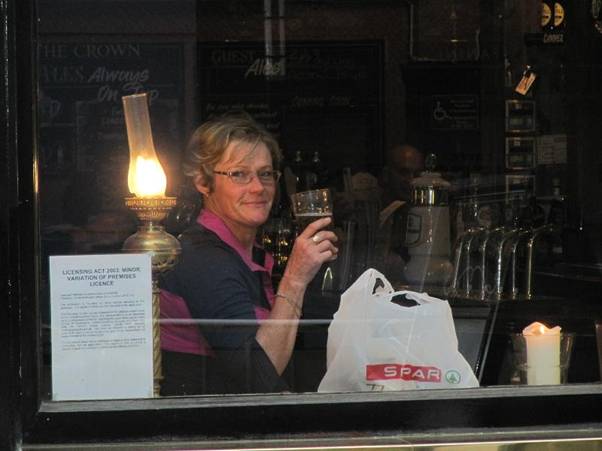 <![endif]><![if !vml]>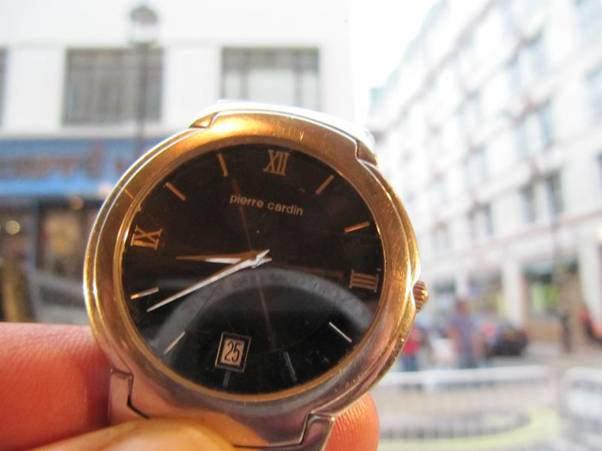 <![endif]>
20h40?? And still daylight<![if !vml]>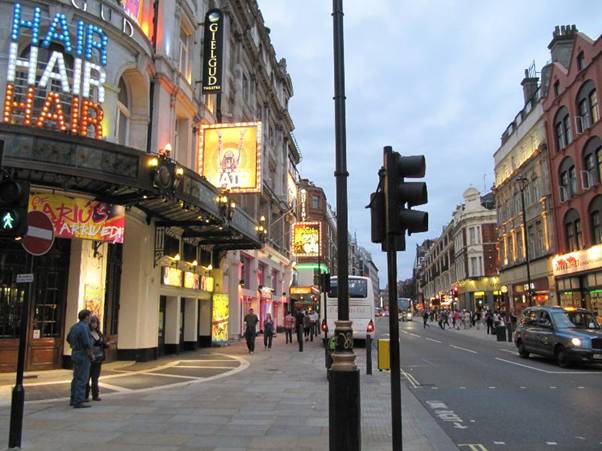 <![endif]><![if !vml]>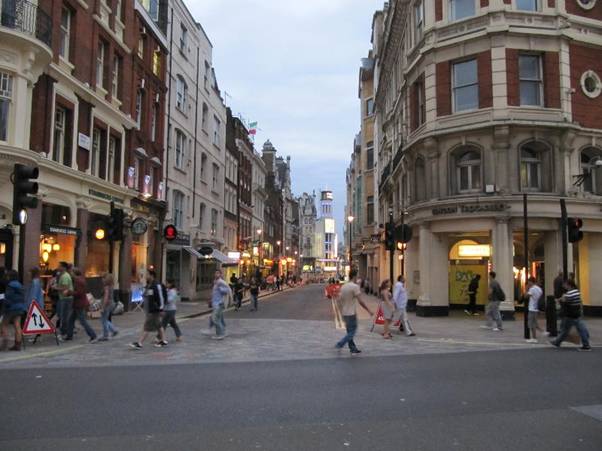 <![endif]><![if !vml]>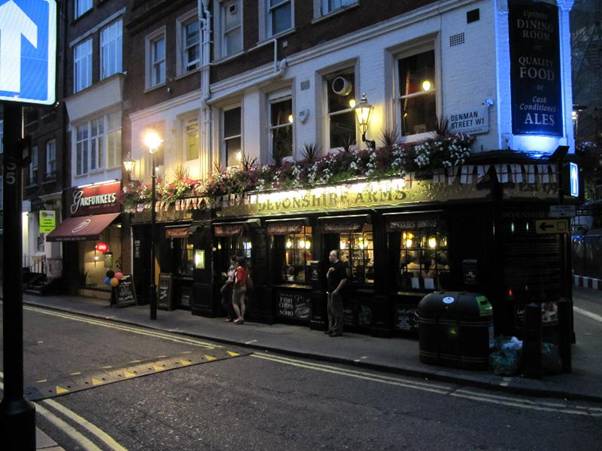 <![endif]>
The Queen and the city of Bath
The story goes that present Queen Elizabeth II at the age of 12 visited the city to officially open a park for children. After the ceremony, walking to the carriage she overheard somebody in the public remarking about her "thick ankles.
She was so furious that she there and then decided that she will never in her life ever return to this dreadful place. A promise she kept to this day. Once she had to travel by train through the city of Bath en route to another place she drew the covers over the windows so nobody could see she was in the Royal Train.
Apparently few of the Bath public misses her anyhow.
The Grumpees of Wales
Our last Saturday proved to be the pinnacle of our holiday, being an invite from a member of the UK BMW Club to ride with them in the hills of Wales and spend the evening in typical country style with a barbeque amongst friends and family in true English style!
Brian Price rides a R80 and us with four other riders (all on Boxers) rode +160km through old rehabilitated coal dumps, up and down mountains and beautiful scenery.
<![if !vml]>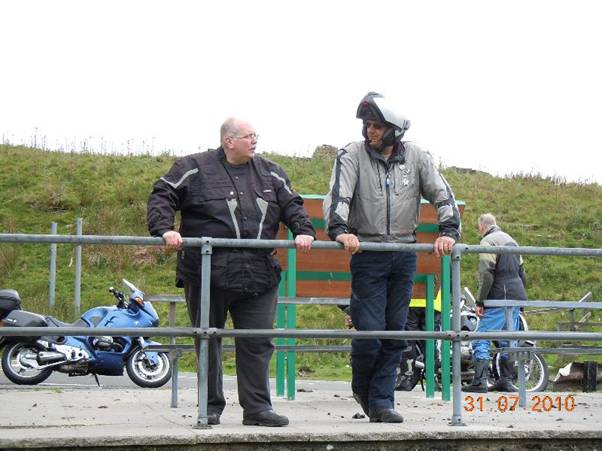 <![endif]><![if !vml]>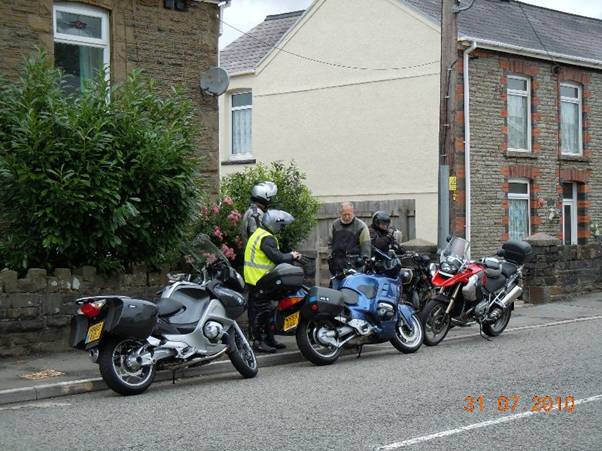 <![endif]><![if !vml]>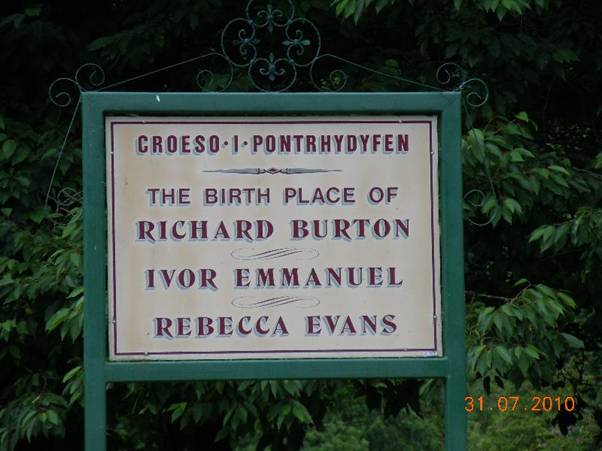 <![endif]>
OK. You try to pronounce these words…
<![if !vml]>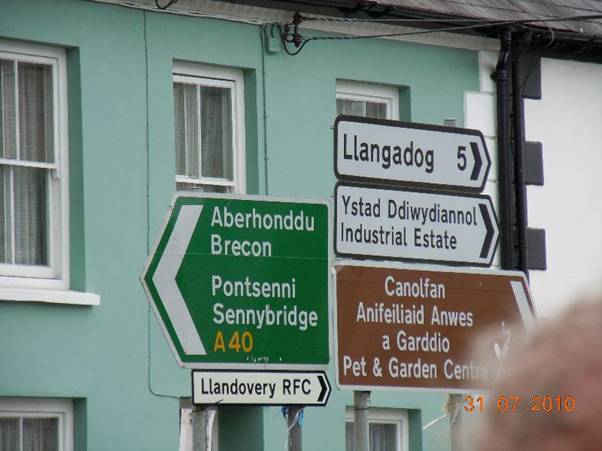 <![endif]>
<![if !vml]>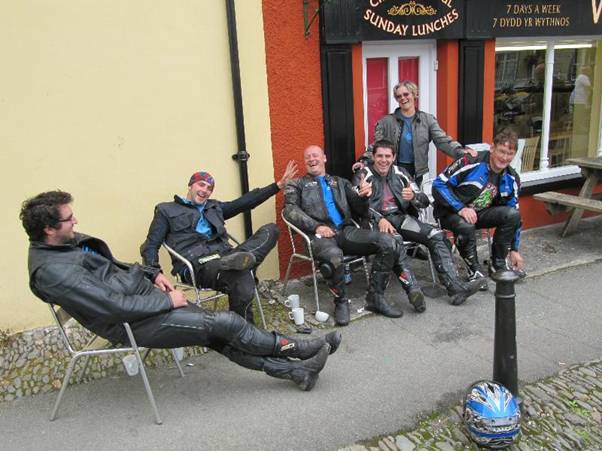 <![endif]><![if !vml]>
<![endif]><![if !vml]>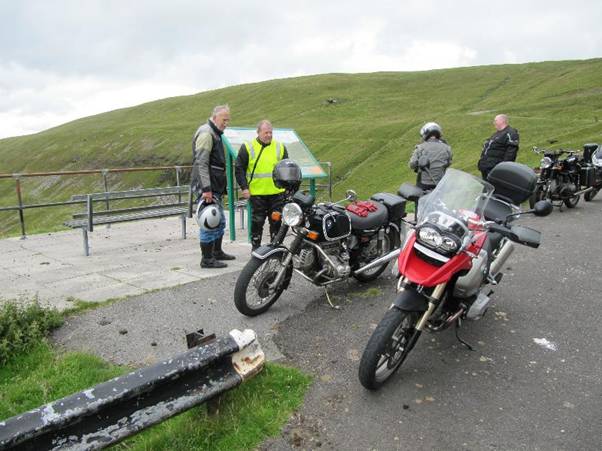 <![endif]><![if !vml]>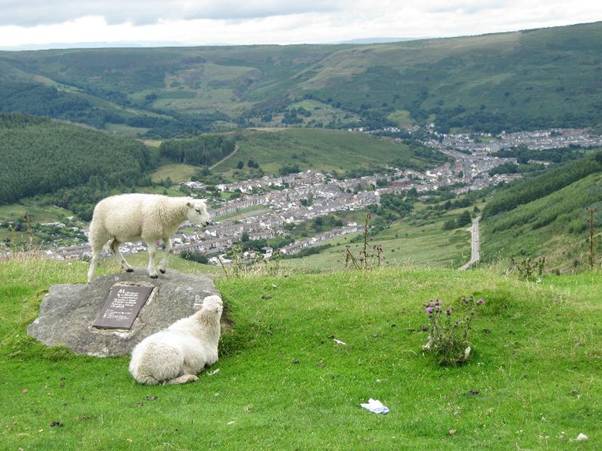 <![endif]><![if !vml]>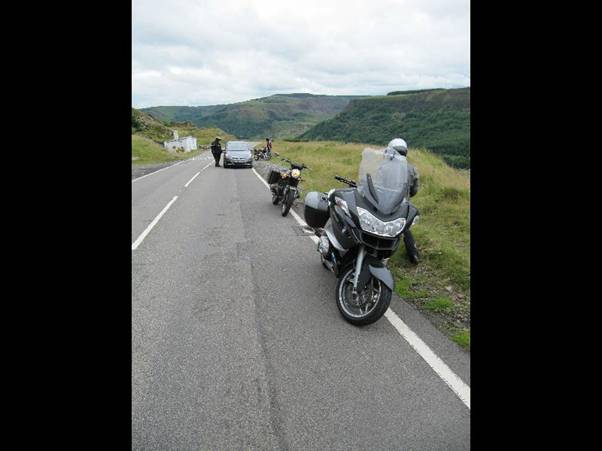 <![endif]><![if !vml]>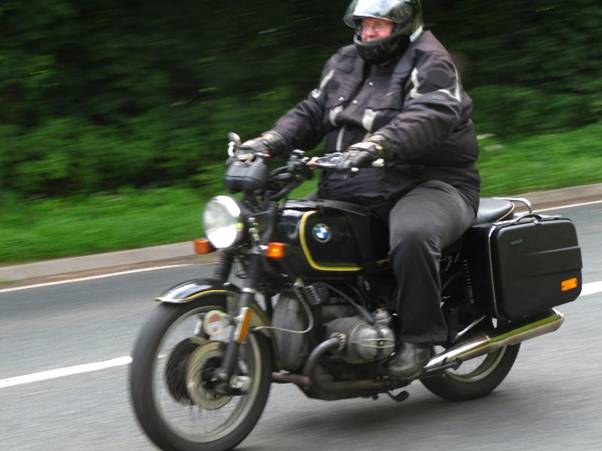 <![endif]><![if !vml]>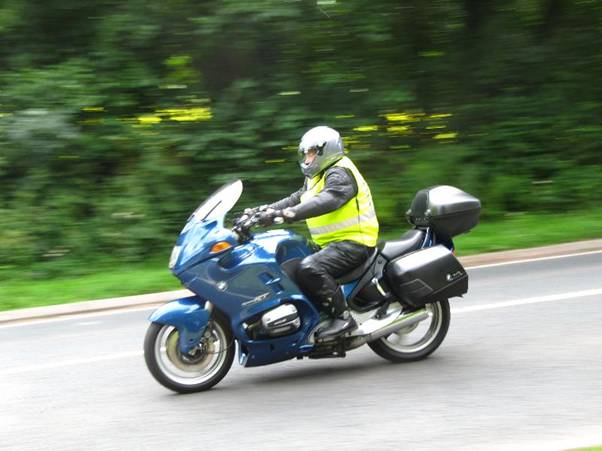 <![endif]><![if !vml]>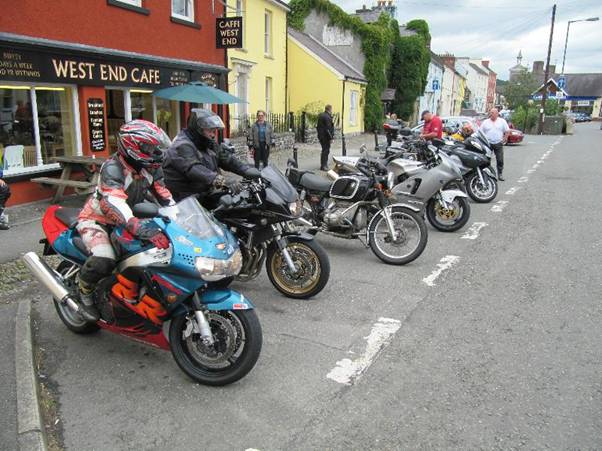 <![endif]>
At one spot up a rise there are flowers set out over an area the size of a residential stand. The story is that for many years a road worker stayed in the little house and he always maintained a beautiful flower garden, even during the cold winters. When he died, the locals carried on putting flowers down years after his death, in respect for this man that liven up the lives of so many people he never even met.
<![if !vml]>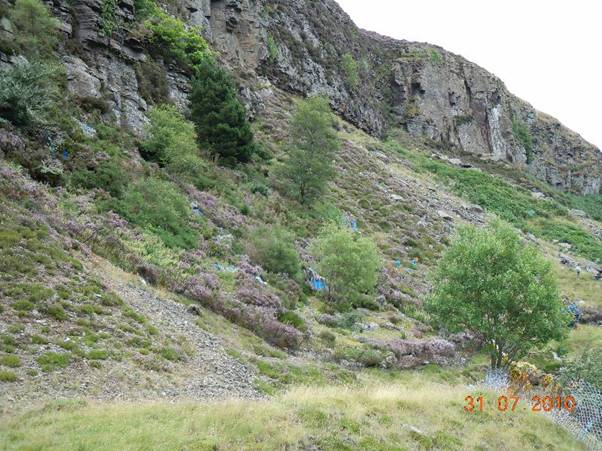 <![endif]><![if !vml]>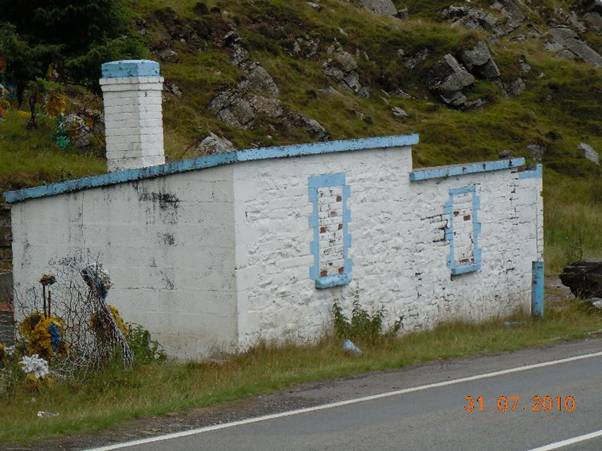 <![endif]><![if !vml]>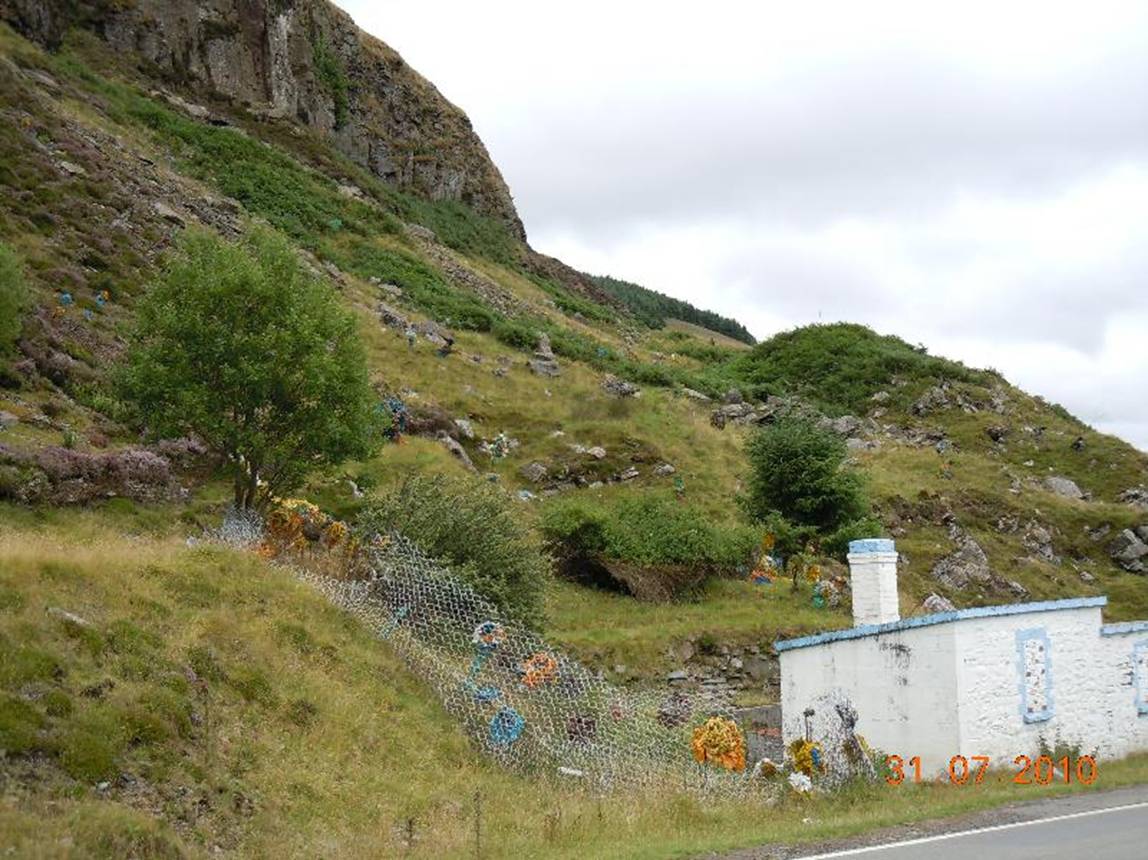 <![endif]>
I cannot give a better review than what John Coates have written on their website. Read more at
http://www.grumpeebikers.co.uk/page60.html
And then it was time to head home. The Sunday morning we greeted our new friends in Neath and headed to London to return the RT and on to Heathrow by train.
Waiting on the station
<![if !vml]>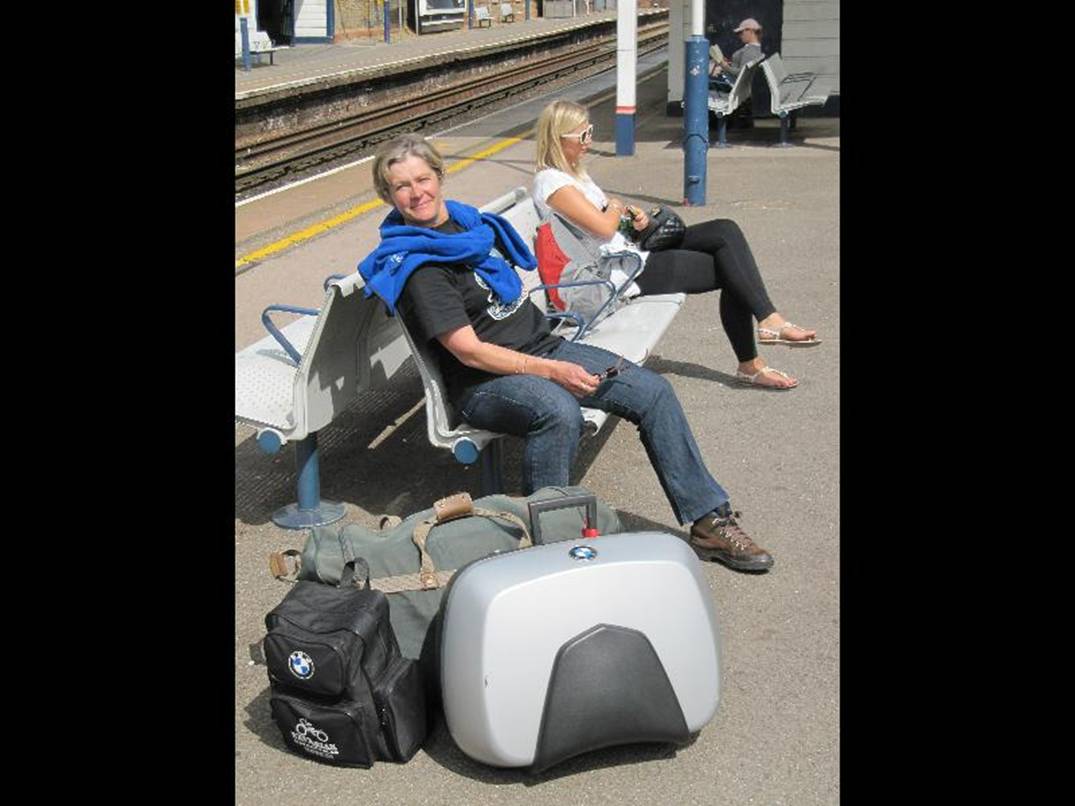 <![endif]>
And then the newest and most known landmark in South Africa before we touched down – Soccer City.
<![if !vml]>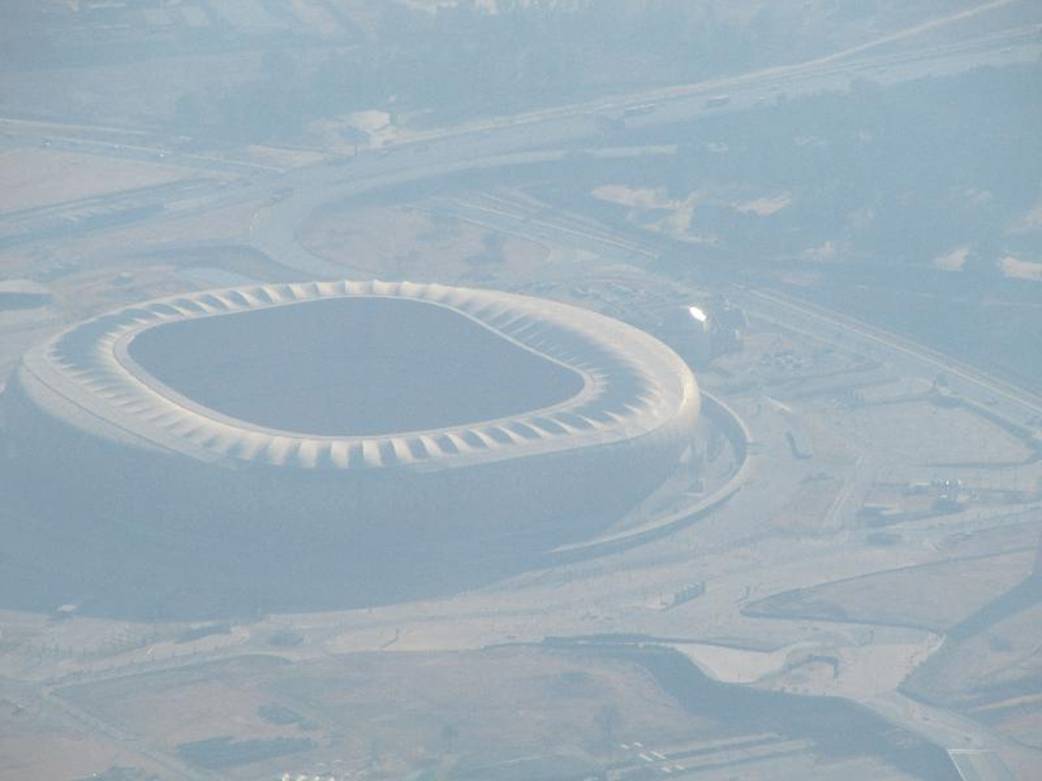 <![endif]>
This was an experience of a lifetime… And we will work hard to create another one in future. Anybody interested to join?